Blueberry Pineapple Bread is a dense old-fashioned comfort food bread that is irresistible with a cup of coffee—the perfect bread for morning breakfast or afternoon snack. Add my powdered sugar glaze to sweeten this blueberry bread even more.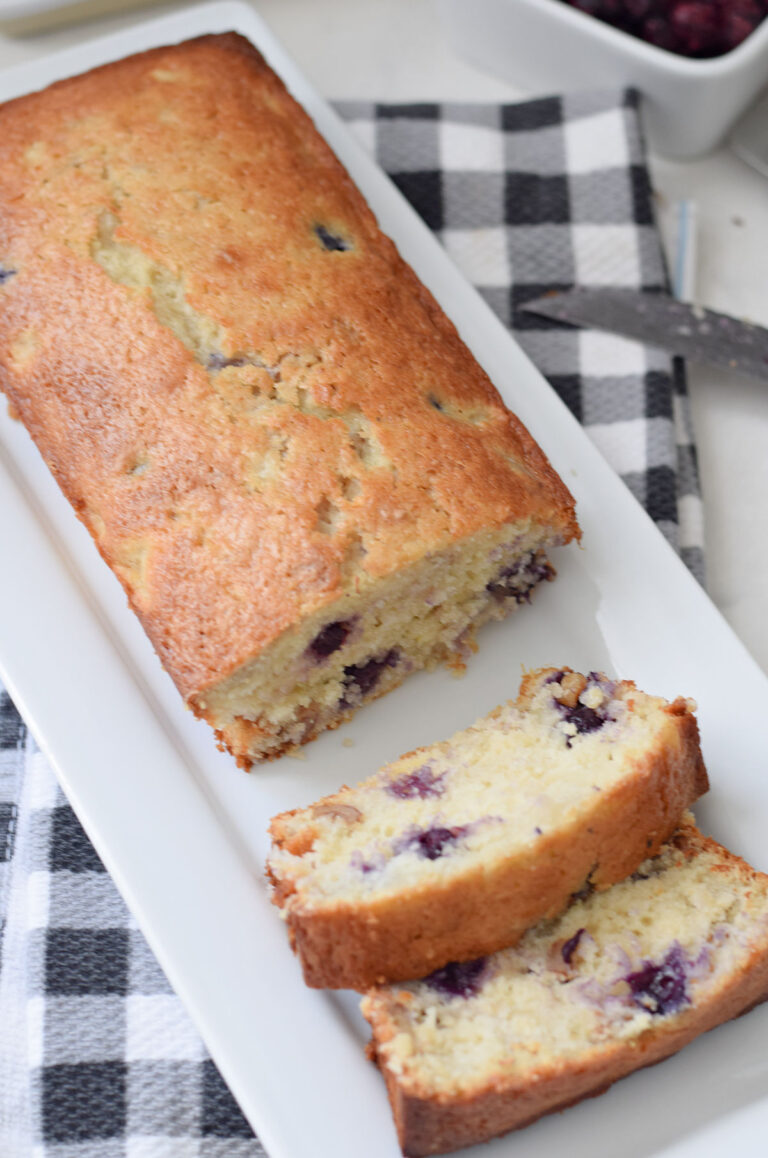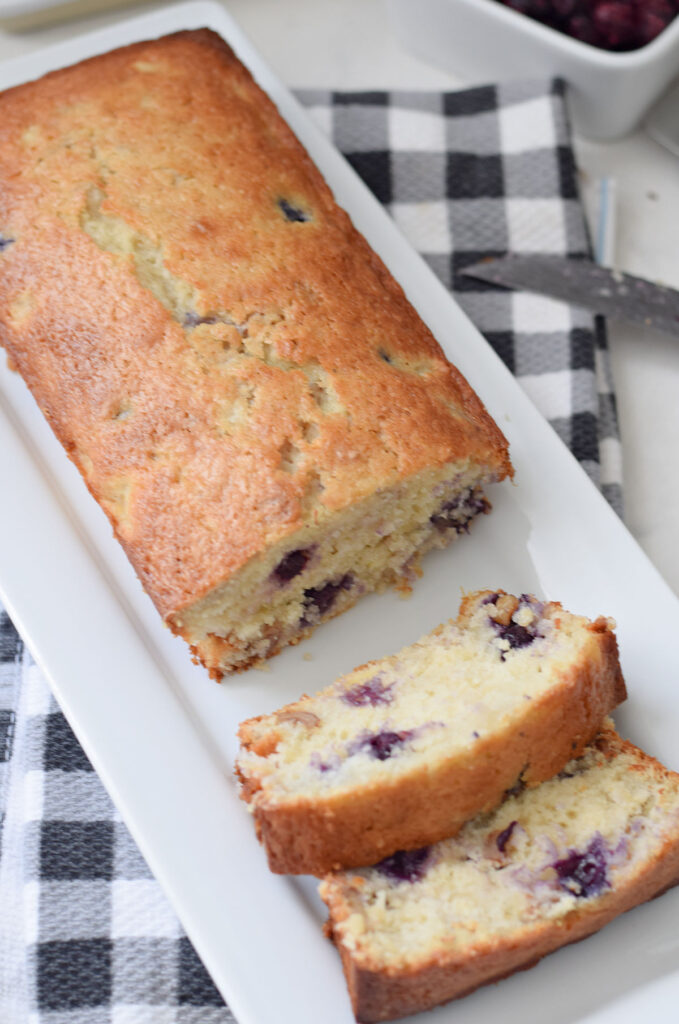 Blueberry Pineapple Bread
This blueberry bread would also be a nice summer afternoon snack and would go perfectly with my recipe for Citrus Punch.
If you are looking for more bread recipes that are tried and true then you might like my recipe for Moist Irish Bread, or Lemon Poppyseed Bread
What I love about this Recipe
It's old-fashioned and it tastes old-fashioned
It's sweet, but not overly sweet
If you want to make this bread sweeter, you can add a powdered sugar glaze to sweeten up the bread
Ingredients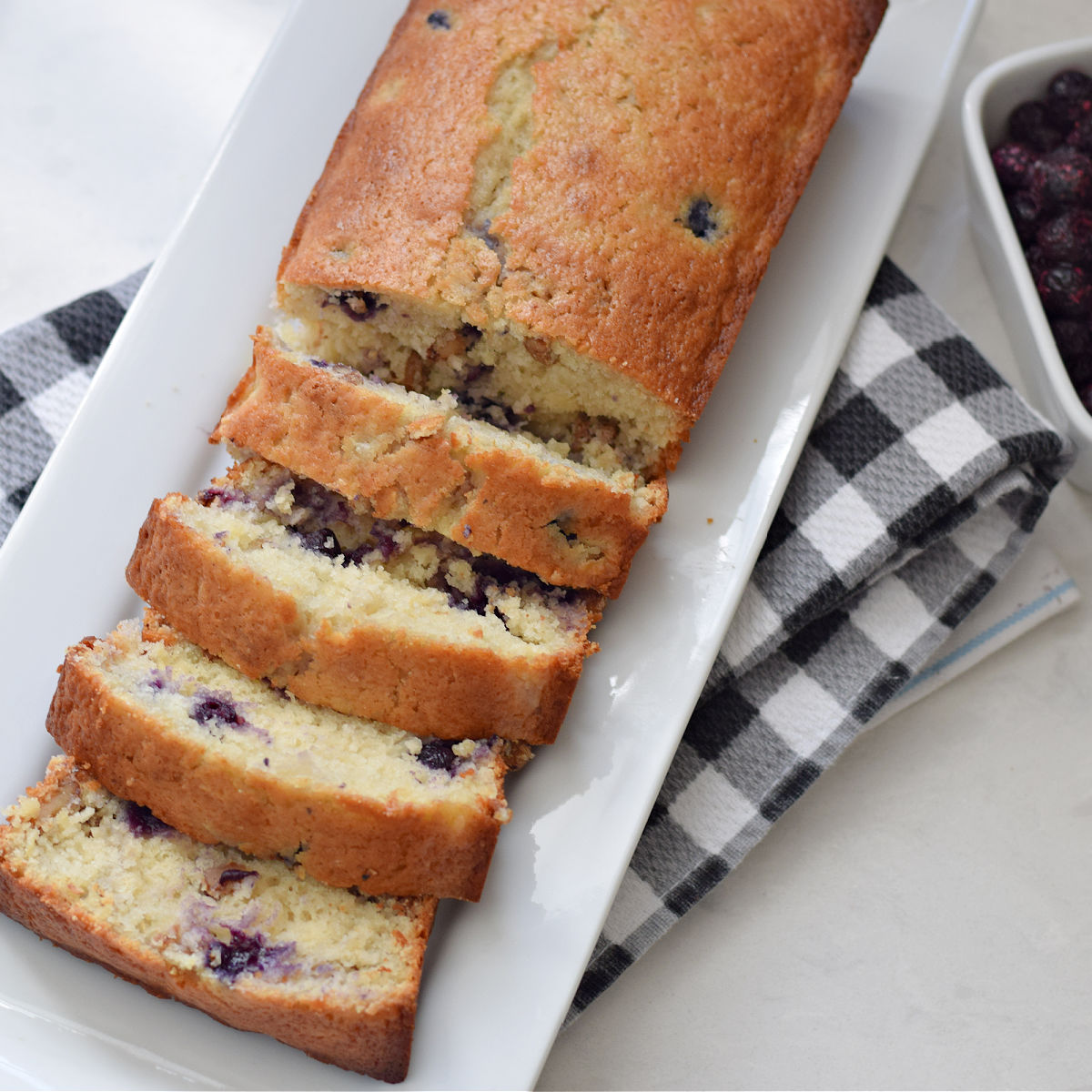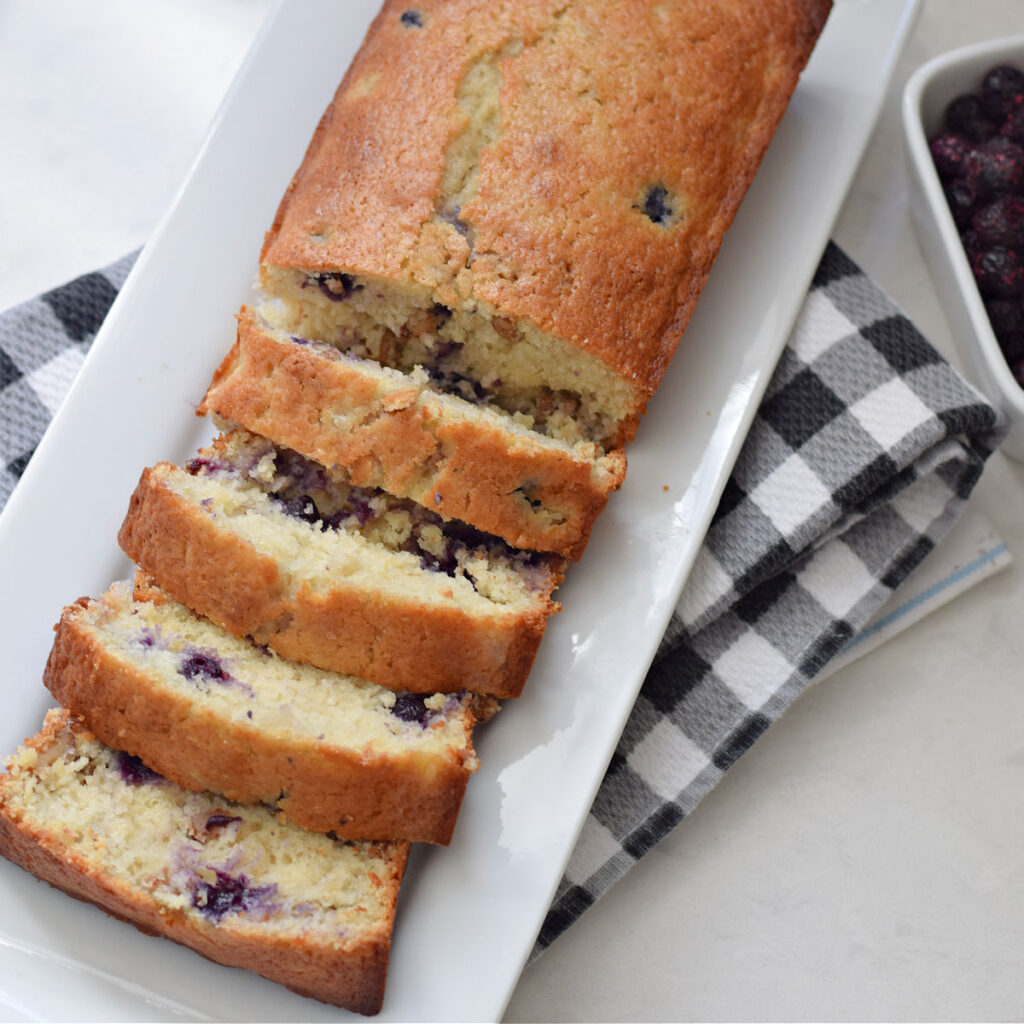 sugar – you'll use granulated sugar to sweeten this bread recipe
egg – use a large egg. I still remember using one of my sister's hen eggs for a recipe that was so cute and tiny. It completely flopped the recipe. Learn from my mistake – you need to use a large egg or if you only have a small one, use 2
butter – melted and unsalted butter is the best choice for this recipe
pineapple juice – I strained the crushed pineapple and used the juice from that
flour – use all-purpose flour for this recipe
salt – this is used in most baking recipes. It balances the recipe out, enhances the recipe, and enhances sugar. Think about how delicious watermelon is when you sprinkle salt onto a slice
baking powder – you probably already know this, but baking powder is used to make baking recipes rise and fluff up
pineapple – you'll want to get yourself a can of crushed pineapple. This will be drained
blueberries – you can use fresh or frozen blueberries for this blueberry bread recipe
nuts – the recipe says any kind, but in my opinion chopped pecans or chopped walnuts are the best option for this easy blueberry bread
Optional Glaze Ingredients
powdered sugar – this is made to make a basic powdered sugar glaze that would be delicious if poured over the blueberry pineapple loaf
milk – milk and powdered sugar combined make such a delicious glaze
vanilla extract – this is not absolutely necessary but does add another level of flavor to the glaze and I think you'll like it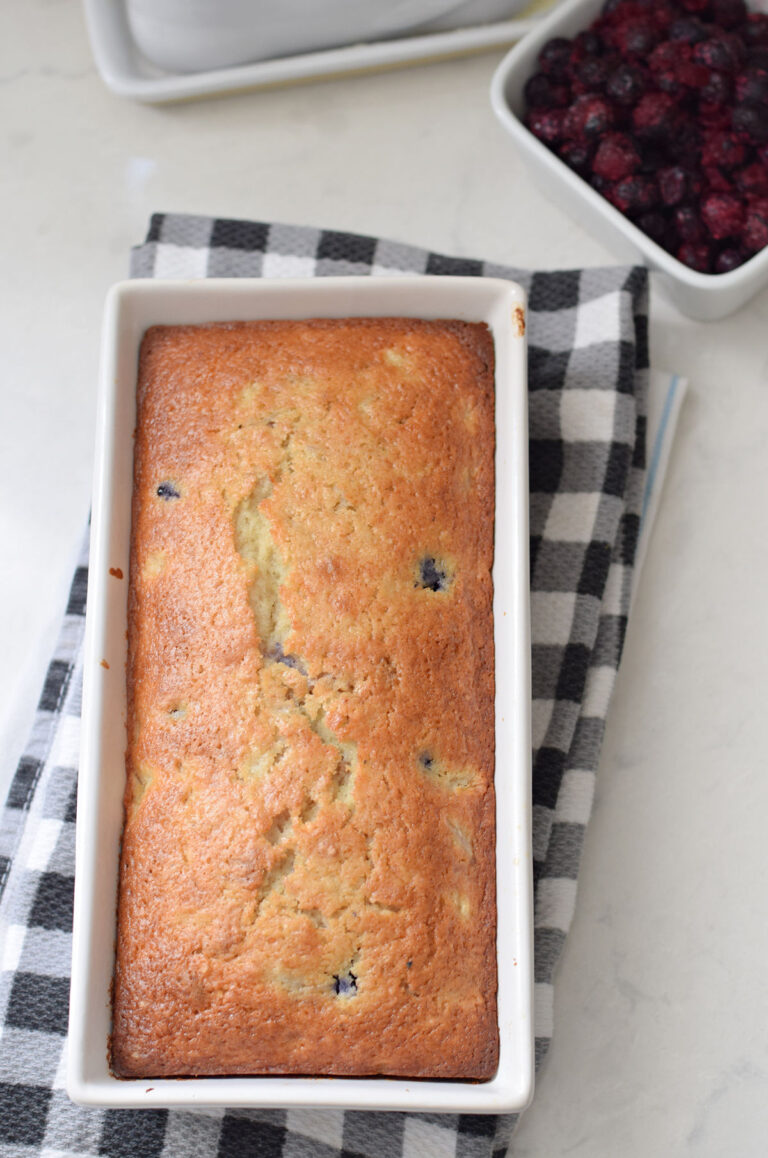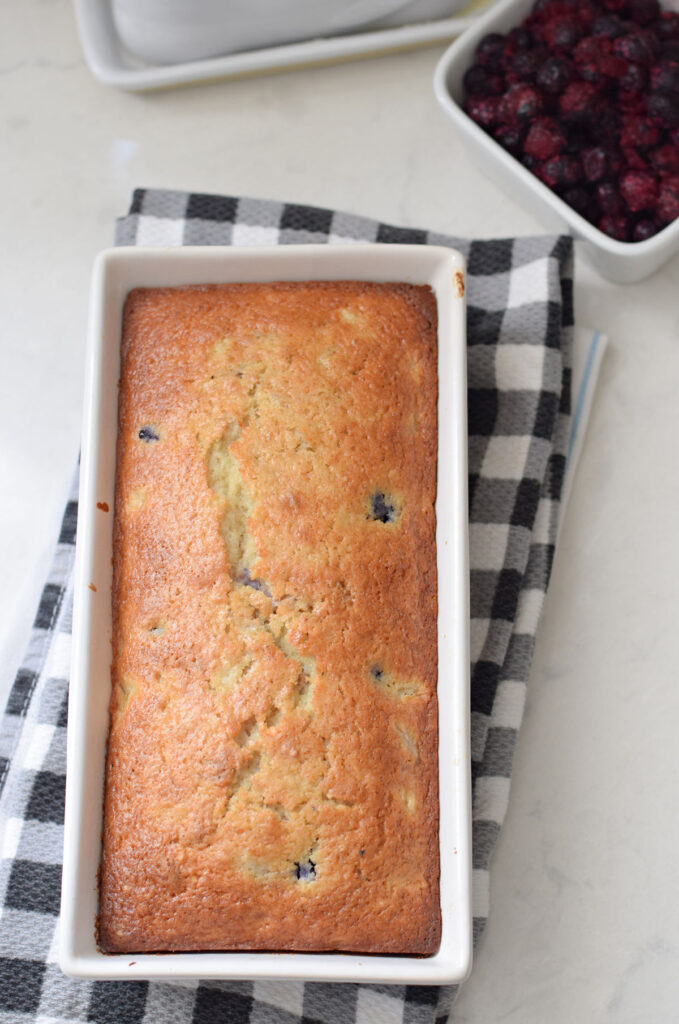 How to Make Blueberry Bread with Pineapple
Step One
Preheat the oven to 350 degrees
Step Two
In a large bowl, combine sugar and egg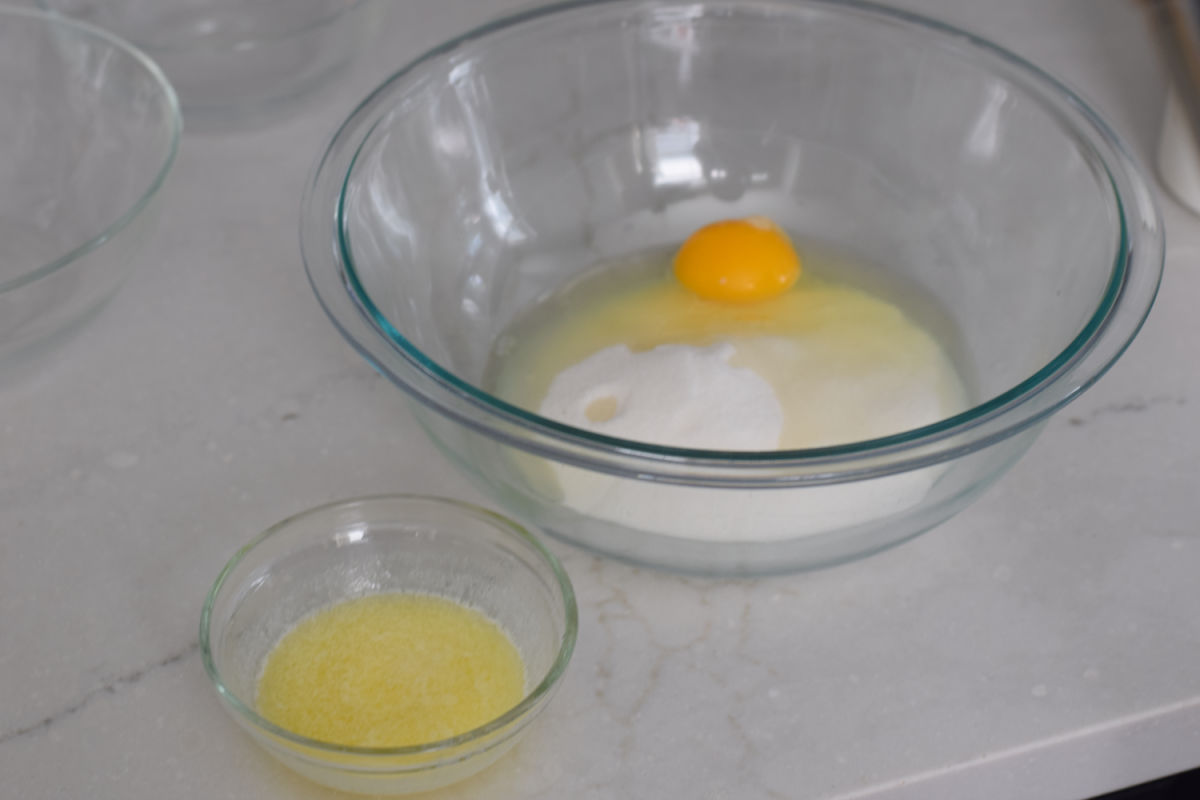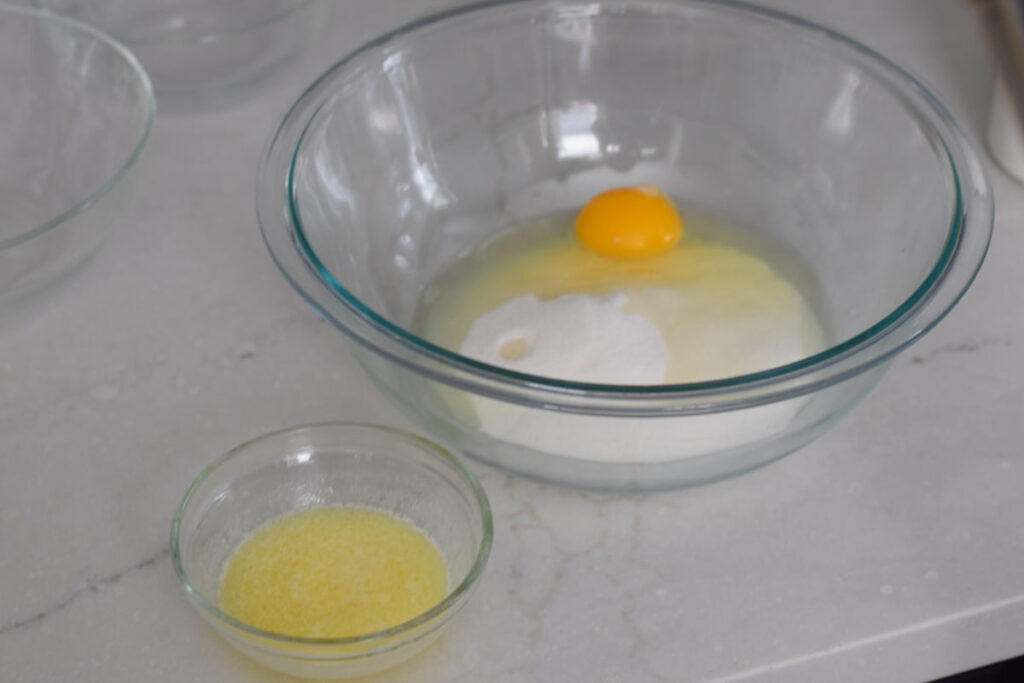 Gradually whisk in butter
Step Three
Strain the crushed pineapple over a bowl and pour 3/4 cup of the juice into the butter mixture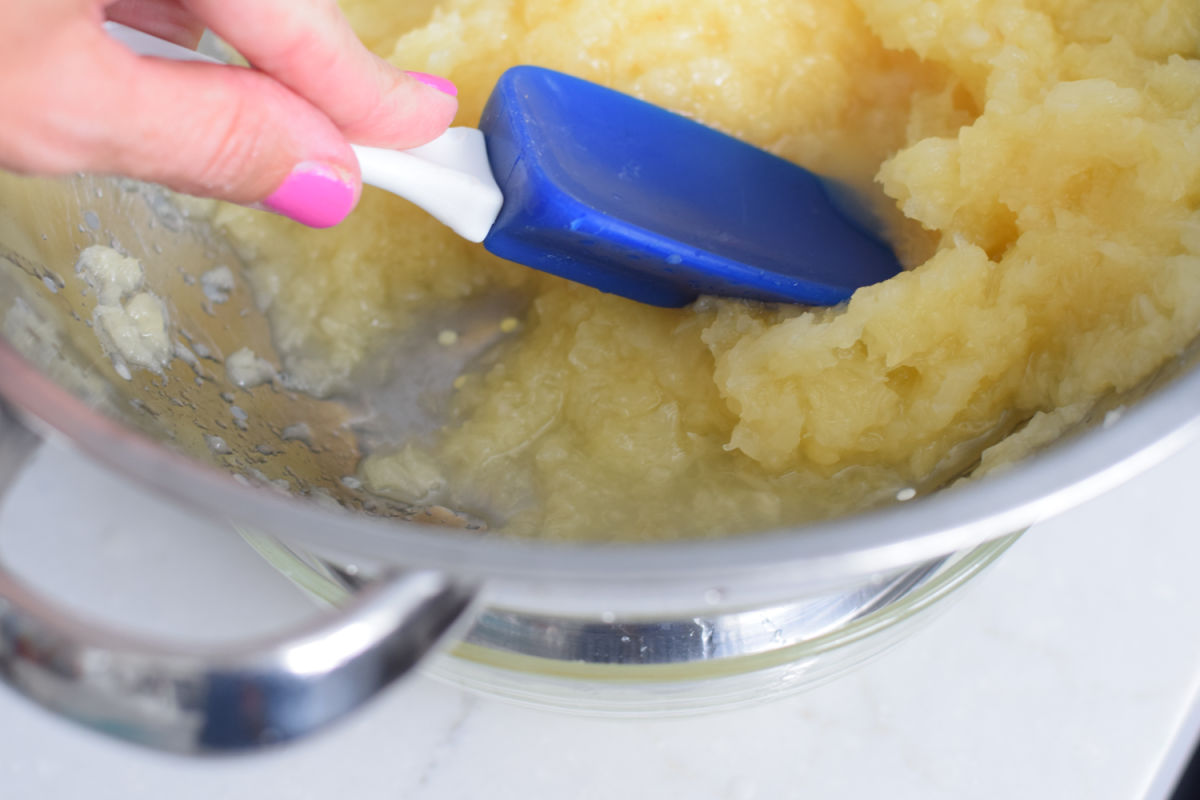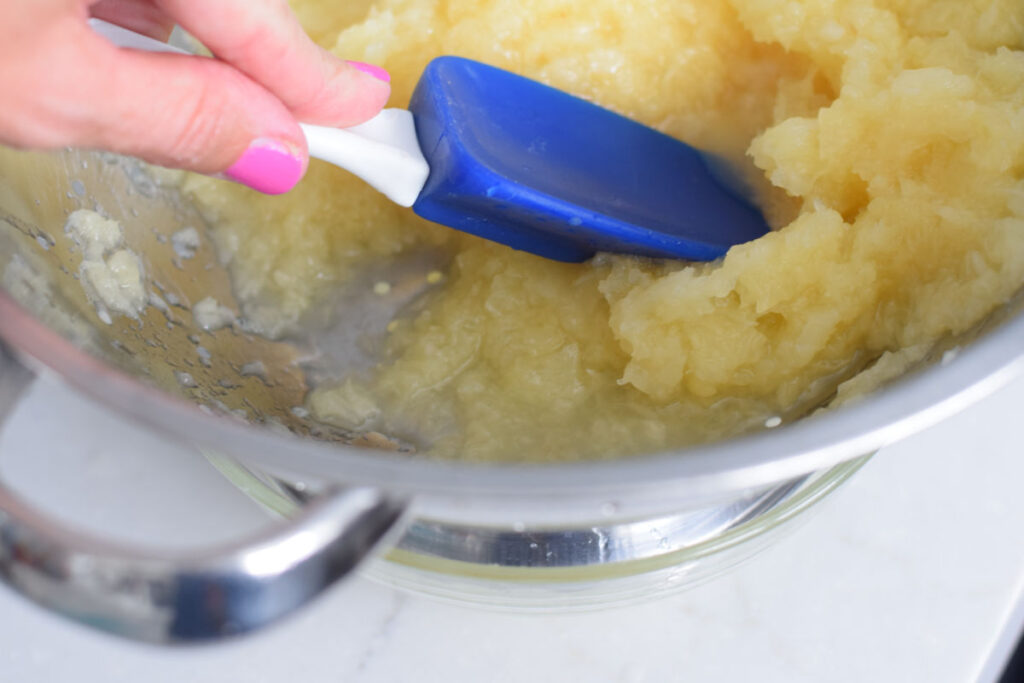 Step Four
In a separate bowl, combine flour, salt, and baking powder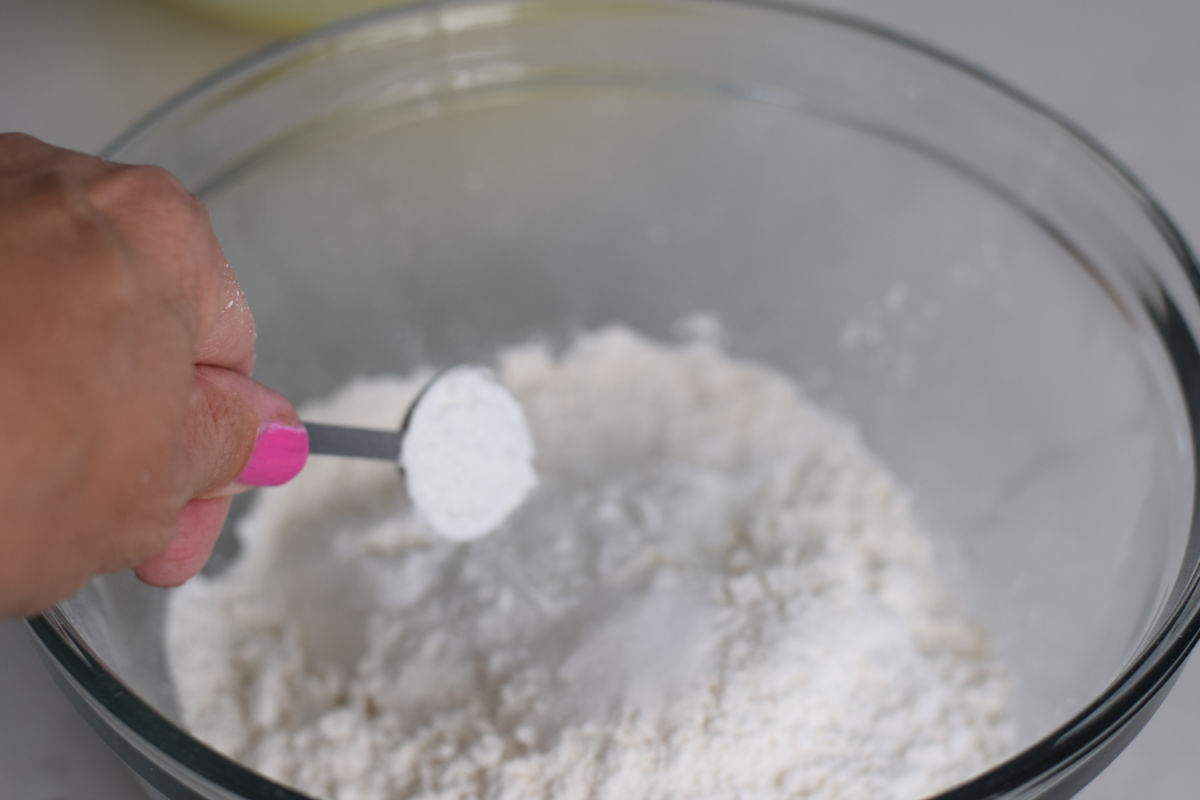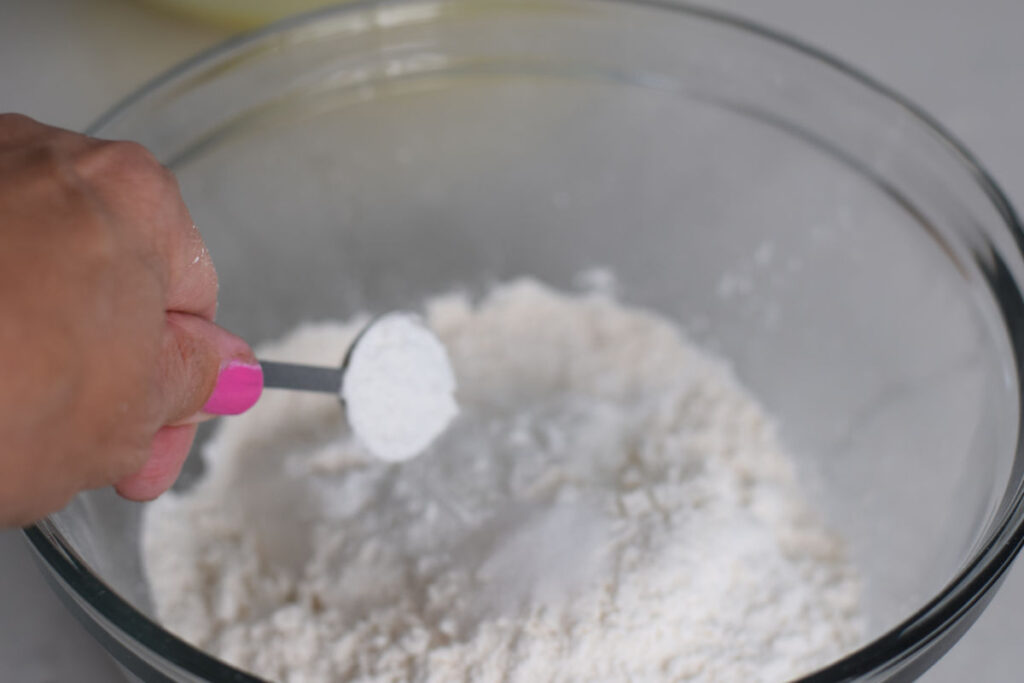 Step Five
Pour that into the butter mixture and stir to combine
Fold in the pineapple, blueberries, and nuts
Pour into a greased bread loaf pan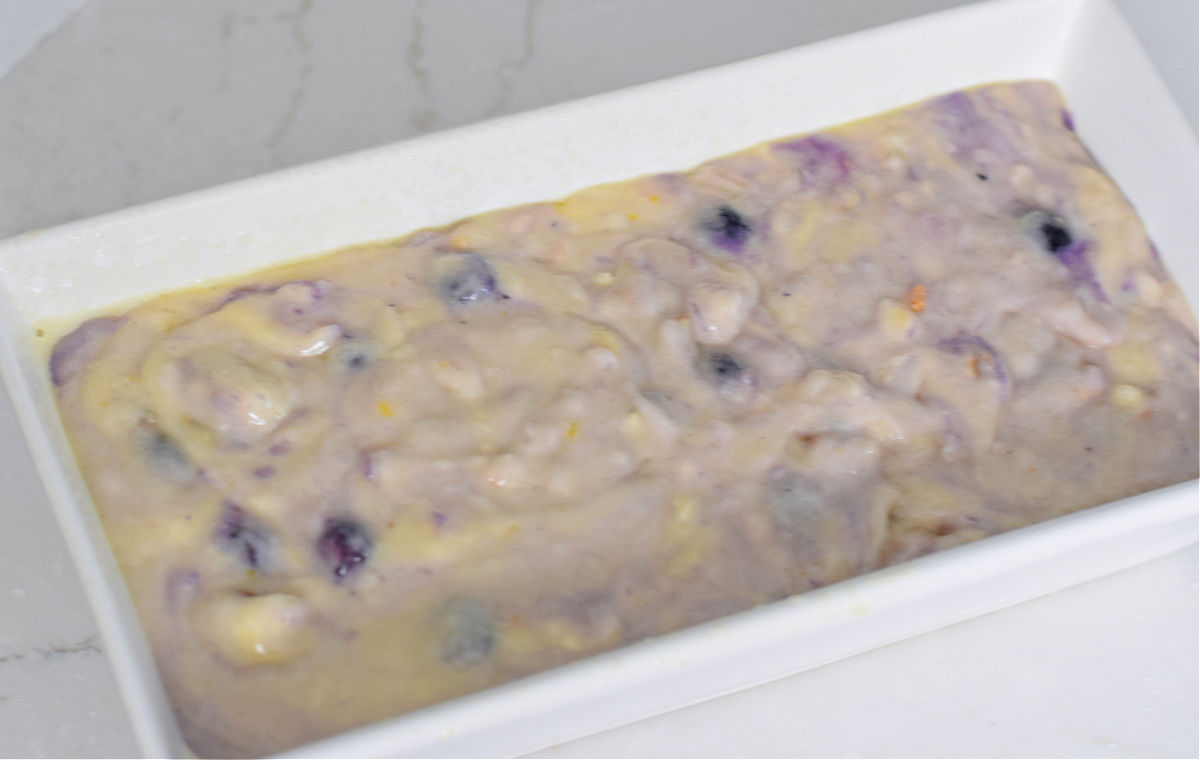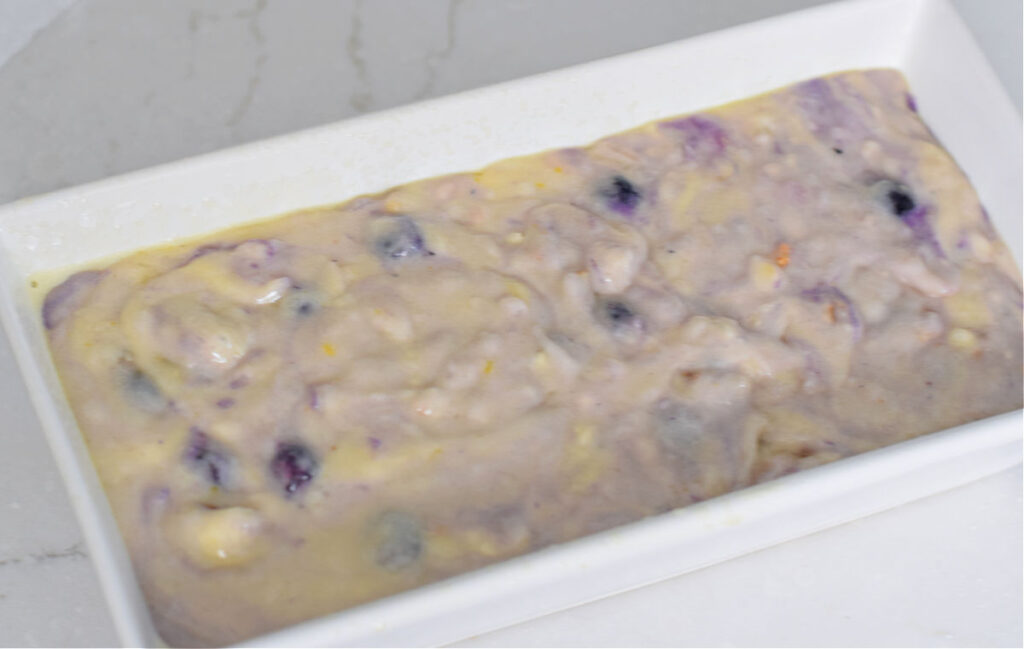 Bake for one hour
Making the Glaze
In a small bowl combine the powdered sugar, milk, and extract
Adding the glaze to the bread
Let the bread cool for about 30 minutes before adding the glaze. If it is too warm, the glaze might just soak into the bread
Expert Tips
If the glaze is too thin, gradually add more powdered sugar and in the reverse, if it is too thick add more milk
Variations
Make a lemon glaze by adding 2 tbsp. milk and 2 tbsp. of lemon juice. Grate fresh lemon zest over the glaze
Make mini loaves for individual bread loaves. This would be so much fun at an afternoon tea
What to Serve with this Blueberry Bread Recipe
powdered sugar glaze
Coffee
Hot Tea
Sweet Tea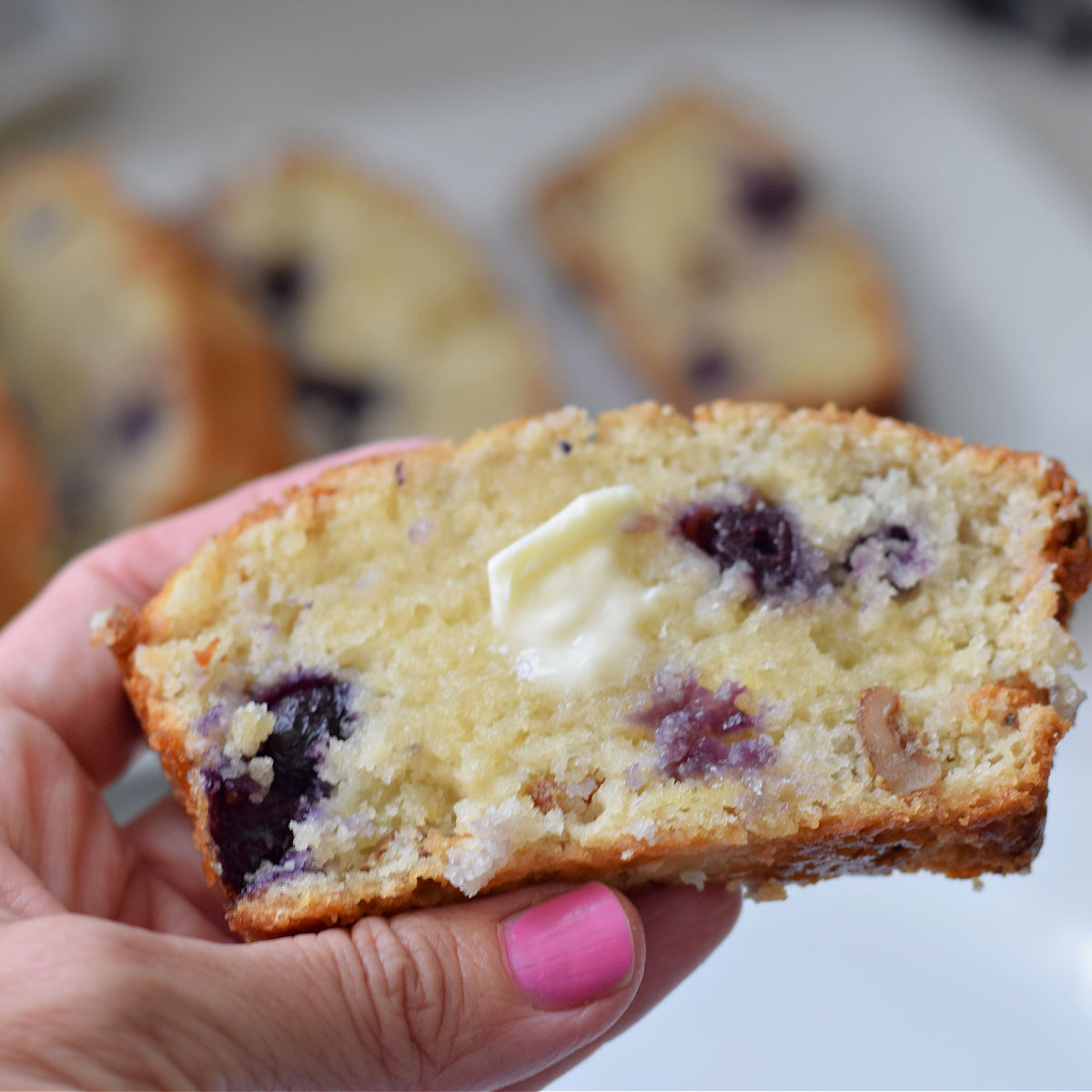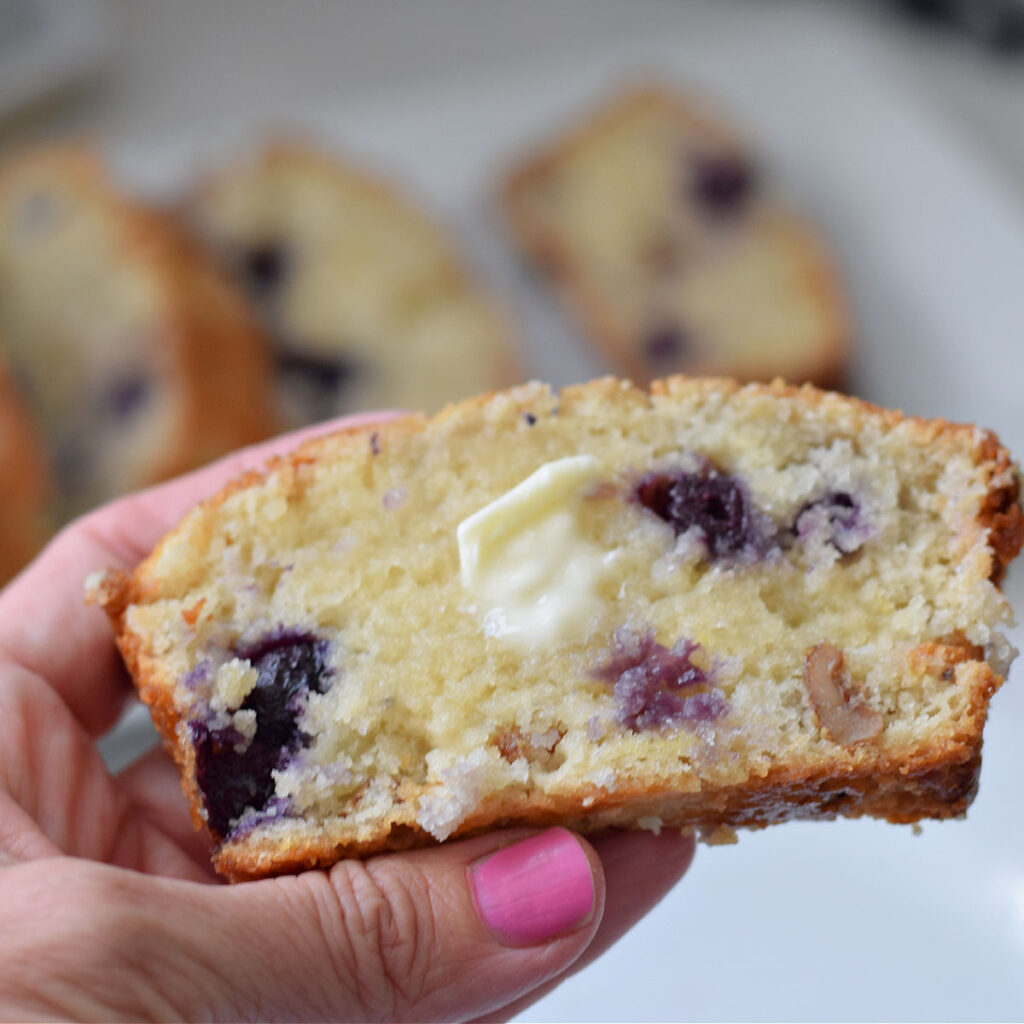 FAQs
Can this bread be frozen?
Yes. Let the bread cool completely. Wrap with wax paper, plastic wrap, and then foil. Place in a freezer bag and freeze up to 3 months.
Can I use other berries in place of blueberries?
Yes. Some good substitutes for blueberries are raspberries, blackberries, peaches, pears, or apples
Can I use frozen blueberries for this bread?
Yes. You can use either fresh or frozen blueberries in this blueberry bread recipe. They are exactly interchangeable. You don't have to add any additional steps
Do you taste the pineapple in this recipe?
No really? The pineapple lends a slight flavor, but it's really the acidity and moisture that you'll get the benefit from by using pineapple in this blueberry bread
Storing and Reheating
Store this bread in a cool place, covered, at room temperature for up to 4 days
Freezing:
Let the bread cool completely. Wrap with wax paper, plastic wrap, and then foil. Place in a freezer bag and freeze for up to 3 months.
Thawing: Unwrap and thaw at room temperature or leave wrapped and thaw in the fridge
More Bread Recipes You'll Enjoy
Serving Size
This recipe will make one loaf of bread. Depending on how thick your slices are, it should feed about 8 people
Doubling baking recipes can be tricky. If you want 2 leaves, I would just suggest starting over with another batch
My top Amazon Picks for this recipe
(affiliate links)
Come Hang out on Social Media
I'd love to see you over on my Pinterest Page Recipes Passed Down and my Facebook Page Recipes Passed Down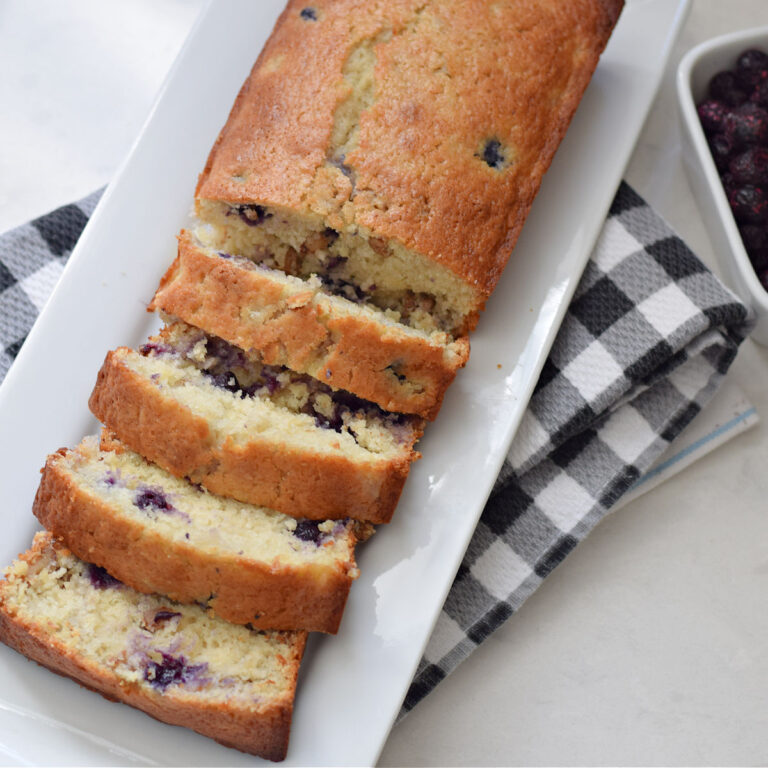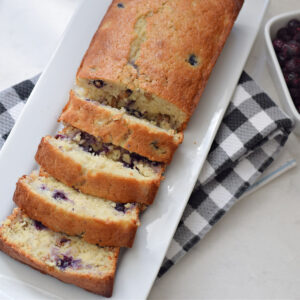 Blueberry Pineapple Bread
A delicious dense sweet bread that is perfect for breakfast or a snack
Ingredients
¾

cup

sugar

1

large

egg

2

tbsp.

butter

melted – unsalted

¾

cup

pineapple juice

I just used the juice from the crushed pinapple that I strained

2

cups

flour

all-purpose

½

tsp.

salt

2

tsp,

baking powder

½

cup

crushed pineapple

1

cup

blueberries

fresh or frozen

½

cup

nuts

I suggest chopped pecans or walnuts
Optional Powdered Sugar Glaze
1

cup

powdered sugar

3-4

tbsp.

milk

1

tsp.

vanilla extract
Instructions
Preheat the oven to 350 degrees

In a large bowl, combine sugar and egg

Gradually whisk in butter

Strain the crushed pineapple over a bowl and pour 3/4 cup of the juice into the butter mixture

In a separate bowl, combine flour, salt, and baking powder

Pour that into the butter mixture and stir to combine

Fold in the pineapple, blueberries, and nuts

Pour into a greased bread loaf pan
Optional Powdered sugar Glaze
Mix the powdered sugar, and 3-4 tbsp. of milk (add 3 at first and if it needs to be thinned out more, add the 4th) , and extract

After the blueberry bread cools for about 30 minutes, pour the glaze over it
Notes
nutrition facts are only an estimate 
if you add the optional glaze then you will have a different nutritional value 
Nutrition
Calories:
307
kcal
Carbohydrates:
53
g
Protein:
6
g
Fat:
9
g
Saturated Fat:
3
g
Polyunsaturated Fat:
1
g
Monounsaturated Fat:
4
g
Trans Fat:
0.1
g
Cholesterol:
31
mg
Sodium:
285
mg
Potassium:
159
mg
Fiber:
2
g
Sugar:
25
g
Vitamin A:
146
IU
Vitamin C:
5
mg
Calcium:
94
mg
Iron:
2
mg