This Irish Soda Bread with sour cream in the batter and delicious raisins is moist and full of flavor. The perfect addition to any breakfast or St. Patrick's Day celebration.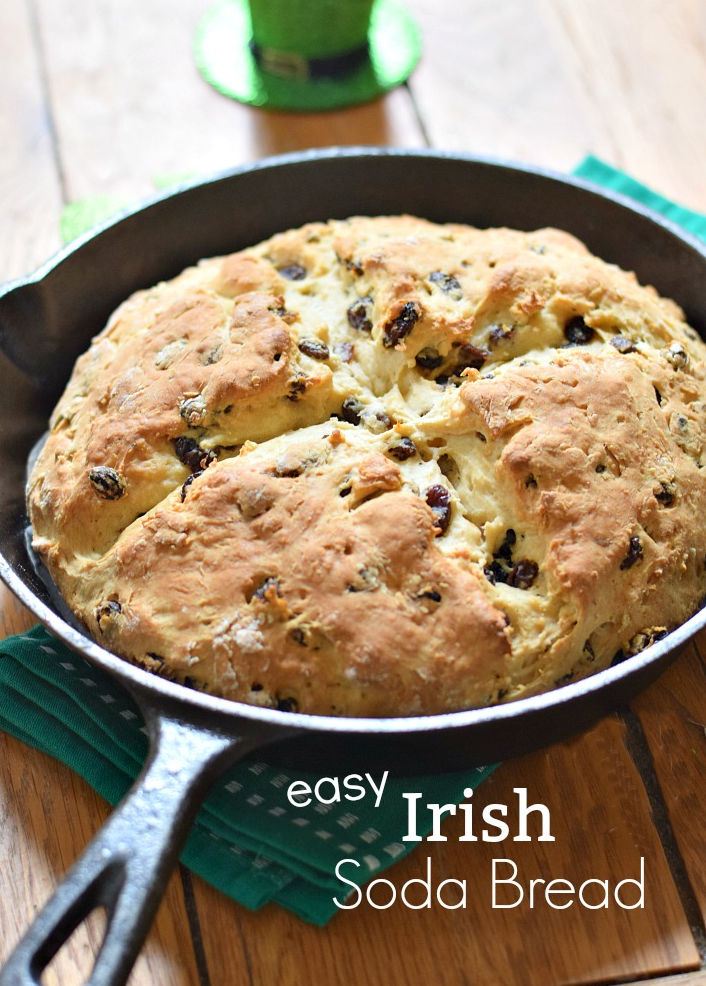 Irish Soda Bread Recipe
This is such a delicious bread that would be the perfect complement to any Corned Beef and Cabbage.
What I love about this recipe:
rich flavor
perfect for St. Patrick's Day dinner
moist and dense bread
sour cream always adds a delicious texture to the bread, so I love that addition to this recipe
What type of texture is Irish Soda Bread?
Soda bread has a dense and moist texture
What Should I eat with Irish Soda Bread?
Soda bread is meant to be eaten with butter, marmalade, jam, or meat
How long can Irish Soda Bread be left out at room temperature?
Bread usually has a short shelf life. Be sure to cover the bread tightly and it will last for a few days at room temperature
Can I Freeze Irish Soda Bread?
Yes! Wrap bread with plastic wrap, and freezer paper. Freeze for up to 2 months. Thaw at room temperature. You can slice the bread before freezing it for easy distribution
Do I have to add raisins?
No. Original Irish bread does not contain raisins. It is thought that the addition of raisins or caraway seeds was added in America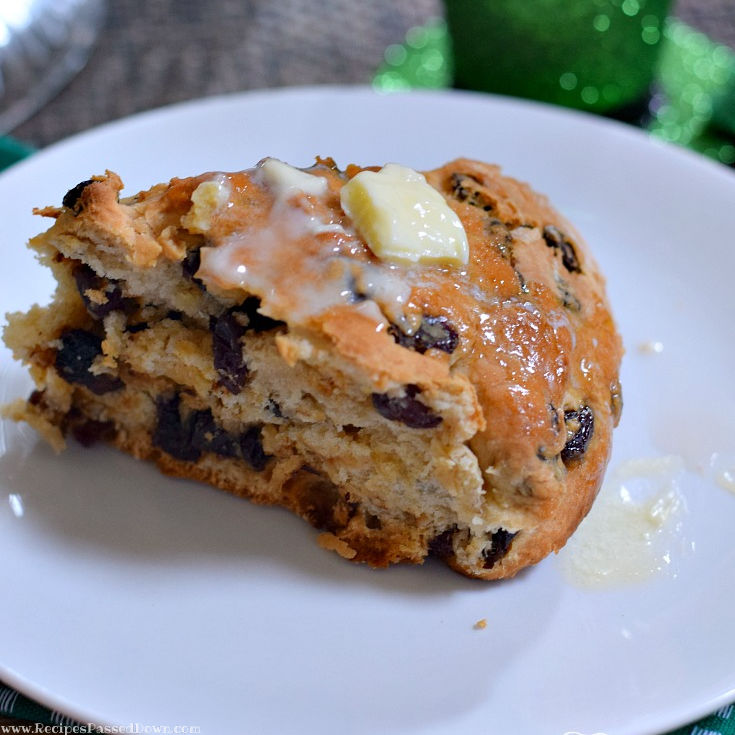 Tips and Tricks
do not over-knead the bread. If you do, you might end up with tough bread instead of light and airy pockets of deliciousness
make a cross in your Irish Soda Bread. This blesses the bread and releases any fairies and keeps evil away
If you are ready to make this delicious bread, let's make sure you have everything you'll need:
Ingredients:
all-purpose flour
brown sugar – adding a sweet flavor
baking powder – increased the volume
baking soda – helps the bread rise
salt – tightens the gluten binding it together
cold butter – this will be used to cut into the flour mixture just like you would a pie crust
sour cream – add a layer of fat which aids in flavor and moistness
large eggs – divided
buttermilk – the acid helps tenderize the bread
raisins – for added flavor
optional – caraway seeds – these seeds have a strong flavor and they are typically found in Rye bread
How do you make Irish Soda Bread?
Preheat the oven to 375 degrees
In a large bowl…Whisk flour, sugar, powder, soda, and salt together
Add the butter to the flour mixture, and cut in with a fork
In a small bowl mix the sour cream, egg, and buttermilk
Add the wet ingredients to the flour mixture
Mix until a dough is formed
Fold in raisins and optional caraway
Set a piece of wax paper on your work surface, lightly flour the wax paper
Lightly knead the dough
Place parchment paper on your baking sheet or inside your iron skillet
Spray the parchment paper with spray oil
Shape the dough into a round loaf
Place it on the greased baking sheet or iron skillet
Cut an X in the top of the bread loaf
Whisk the remaining egg and brush it on the top of the loaf
Bake for 30-35 minutes
More Bread Recipes: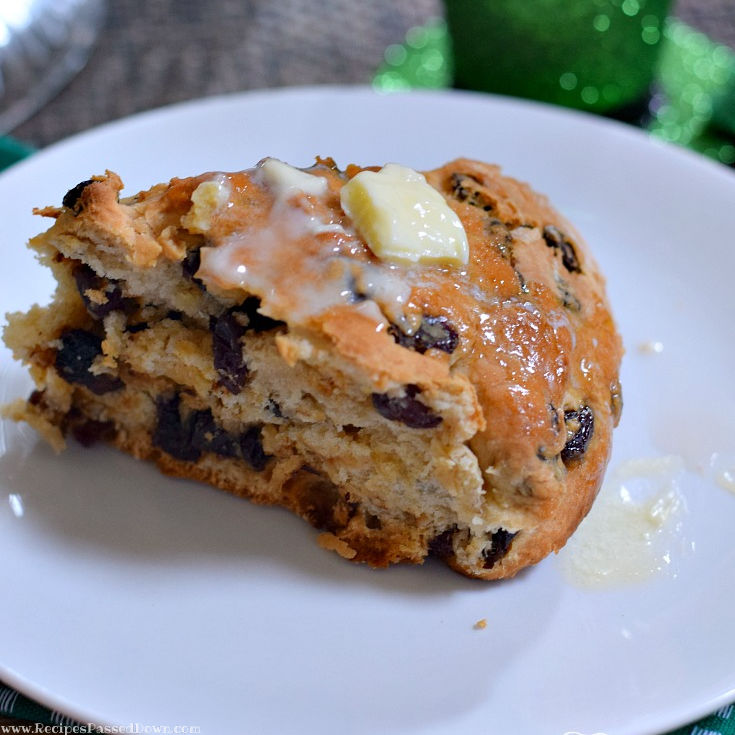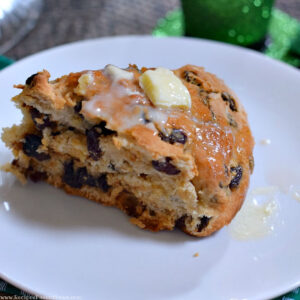 Moist Irish Soda Bread
A delicious moist Irish Soda Bread with raisins
Ingredients
2

cups

all-purpose flour

2

tbsp.

brown sugar

1

tsp,

baking powder

1

tsp.

baking soda

½

tsp.

salt

3

Tbsp.

cold unsalted butter

1

cup

sour cream

2

large

eggs

divided

¾

cup

buttermilk

½

cup

raisins

2

tsp.

caraway seeds

optional
Instructions
Preheat the oven to 375 degrees

In a large bowl…Whisk flour, sugar, powder, soda, and salt together

Add the butter to the flour mixture, and cut in with a fork

In a small bowl mix the sour cream, egg, and buttermilk

Add the wet ingredients to the flour mixture

Fold in raisins and optional caraway

Set a piece of wax paper on your work surface, lightly flour the wax paper

Place parchment paper on your baking sheet or inside your iron skillet

Spray the parchment paper with spray oil

Shape the dough into a round loaf

Place it on the greased lined baking sheet or iron skillet

Cut an X in the top of the bread loaf

Whisk the remaining egg and brush it on the top of the loaf
Nutrition
Calories:
288
kcal
Carbohydrates:
38
g
Protein:
7
g
Fat:
13
g
Saturated Fat:
7
g
Polyunsaturated Fat:
1
g
Monounsaturated Fat:
3
g
Trans Fat:
0.2
g
Cholesterol:
78
mg
Sodium:
444
mg
Potassium:
215
mg
Fiber:
2
g
Sugar:
6
g
Vitamin A:
427
IU
Vitamin C:
1
mg
Calcium:
118
mg
Iron:
2
mg