With a mint-flavored chocolate center and a green chocolate coating, this delicious melt-in-your-mouth candy is perfect for the holidays. Mint Meltaways literally melt in your mouth with a softer truffle center filled with a peppermint flavor and thin chocolate coating.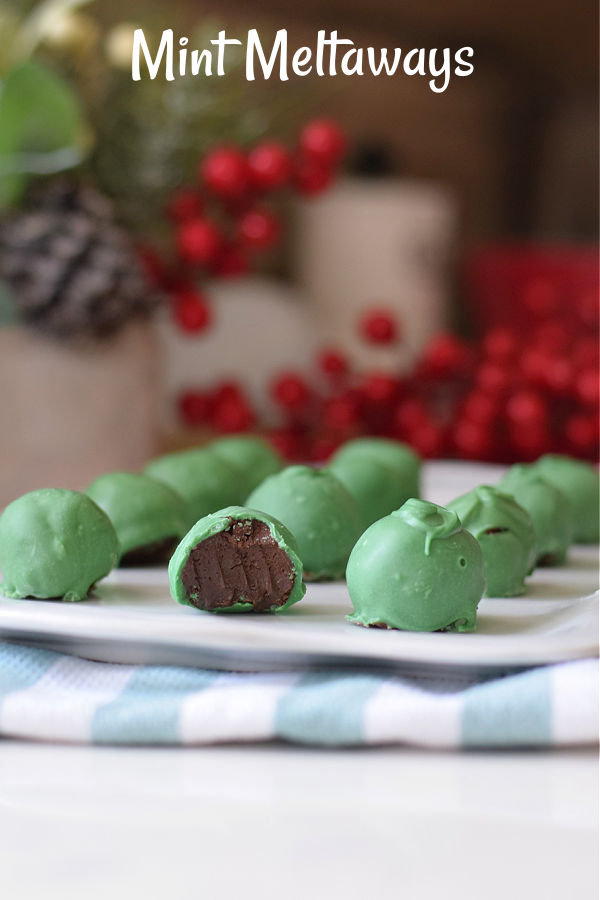 Mint Meltaways – Mint Flavored Truffle Candy
My mom used to make this old recipe when she worked in a candy kitchen. She's made them every year for Christmas presents. They remind me in the way of a Fannie May mint and are inspired by Fannie May Mint Meltaways.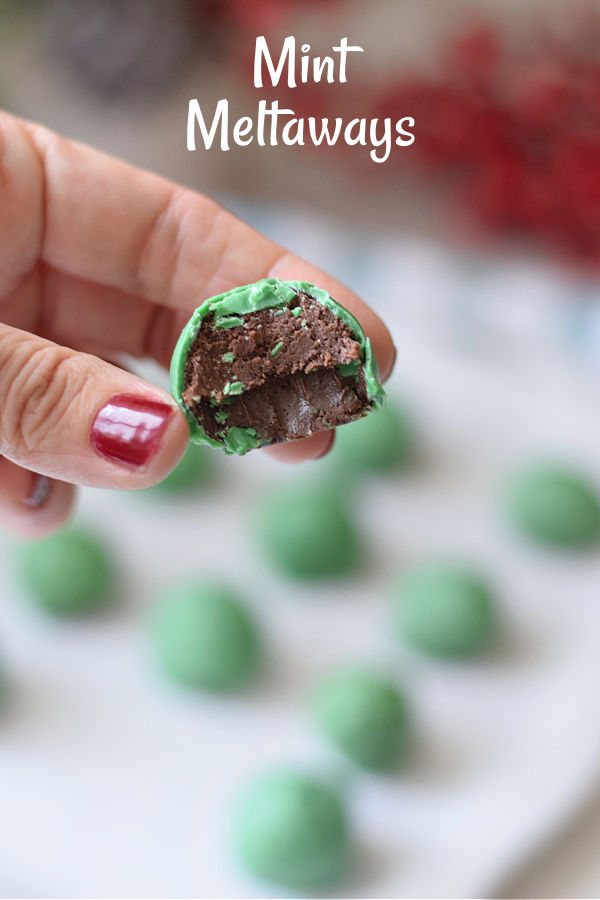 What I love about this recipe:
delicious mint flavor
great candy to give out as gifts
easy to make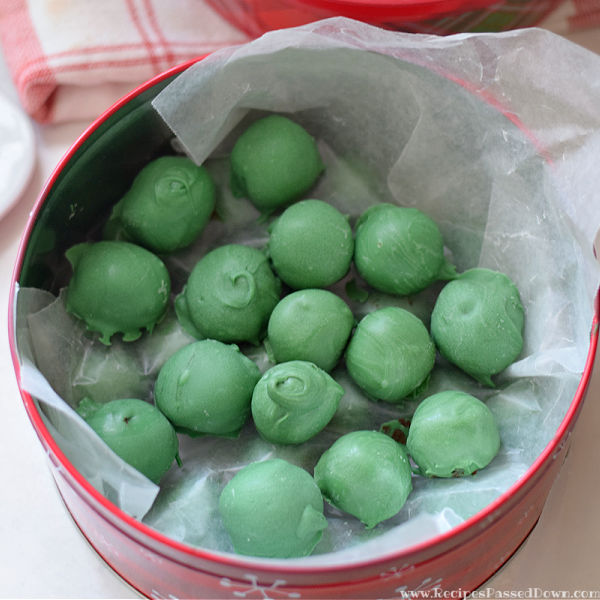 FAQs
What is a Truffle?
A truffle is a soft and creamy candy that is sometimes made with butter, cream, and egg yolk moisture
Make Ahead and Storage:
Can I make these truffles ahead of time?
Yes! These mint meltaways make great gifts
Storing:
Store these meltaways in an airtight container in the refrigerator for up to 2 weeks
Can you Freeze this candy?
I would not recommend storing chocolate-covered candy in the freezer
A note about storing chocolate in the refrigerator or freezer: The chocolate might react to moisture by creating a sugar bloom
What is Sugar Bloom?
Chocolate is a finicky ingredient. Once it is exposed to moisture from the refrigerator, the freezer, or even humidity in the air, the sugar reacts. Moisture collects on the surface and attracts the sugar. The sugar rises and makes white specks all over the chocolate
How much Mint Extract should I use?
The original recipe used peppermint oil which requires 15 drops. We experimented with the flavor and added a whopping 2 Tbsp. of extract vs. the 15 drops (around 1/4 tsp.) of pure peppermint oil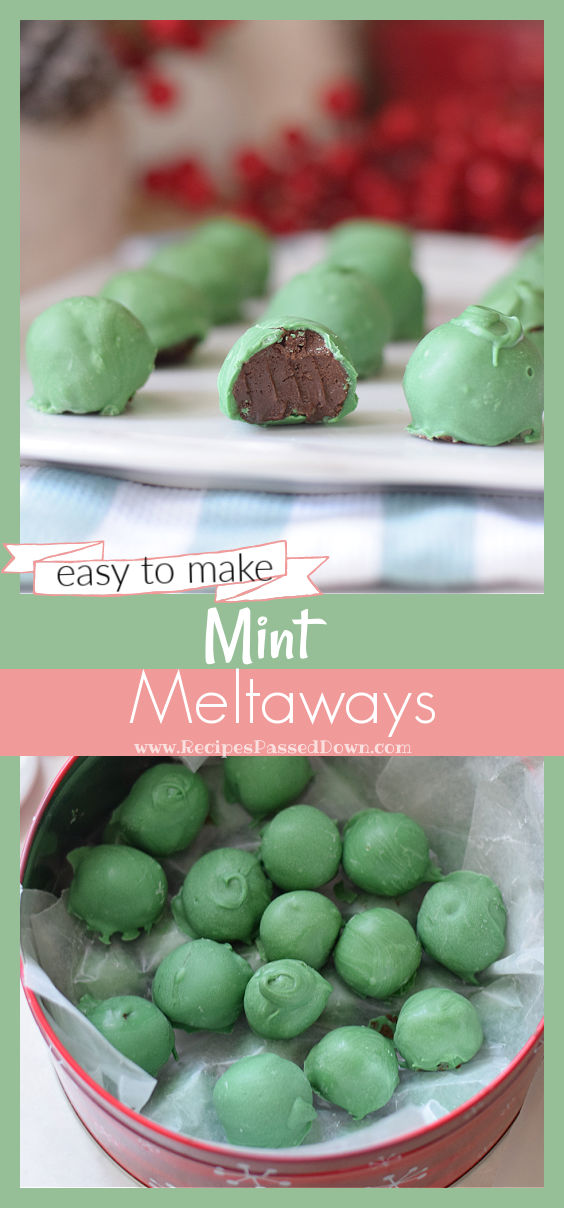 Tips and Tricks
use wax paper to dry your melted chocolates on
temper your egg yolks before adding them to the hot butter so they do not cook
If you are ready to make this delicious chocolate mint candy, let's make sure you have everything you need:
Ingredients:
light chocolate melts – there are plenty of brands out there. I used to prefer Wilton, but now there are lots of great melting chocolate options to choose from
dark chocolate melts
unsalted butter – melted
evaporated milk – this will be mixed with the butter to make a creamy buttery mixture
3 egg yolks – the egg yolks will need to be tempered before completely adding them to the butter mixture
up to 2 Tbsp. of peppermint extract or 15 drops of pure peppermint oil – The extract is not as concentrated as the oil, so we used a whole lot more of it
24 oz. of light green chocolate melts – this will be used to coat the truffle. Find a color as close to mint as you can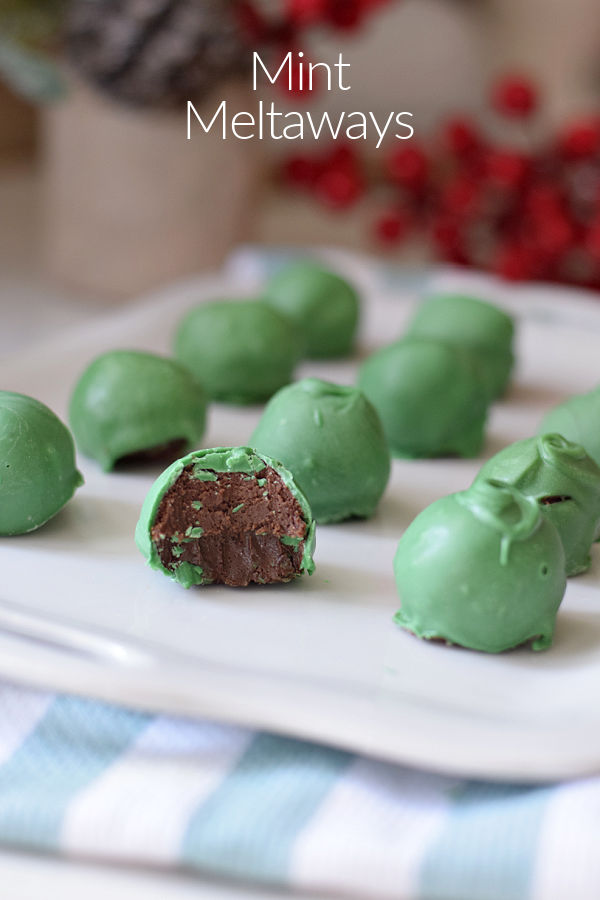 How do you make Mint Meltaways?
In a large glass microwave-proof bowl, microwave the dark and light chocolate for 1 minute
Stir the melted chocolate and pop it back into the microwave for 1 more minute
Stir until smooth
In a small bowl, whisk the egg yolks and set aside
In a medium-sized bowl, whisk the melted butter and evaporated milk
One spoonful at a time, add a spoonful of warm butter mixture to egg yolk and mix
Once the eggs have warmed up and thickened, pour them into the butter and cream mixture and mix well
Now, add the cream mixture to the chocolate and stir until blended
Cover and refrigerate for a few hours or overnight
Pour a small amount of all-purpose flour onto your work surface
Using your hands or kitchen gloves pat them onto the flour and rub your hands together so the flour is lightly coating your palms
Roll the truffle mixture into small teaspoon-sized balls
Set out a piece of wax paper
Melt the green chocolate
Using a fork or dipping tool, One by one, dip truffle balls into the melted chocolate
Bring the chocolate balls up to the side of the bowl and tap to release excess melted chocolate
Place the coated truffles onto the wax paper to dry
Store in an airtight container in a cool place
Recipe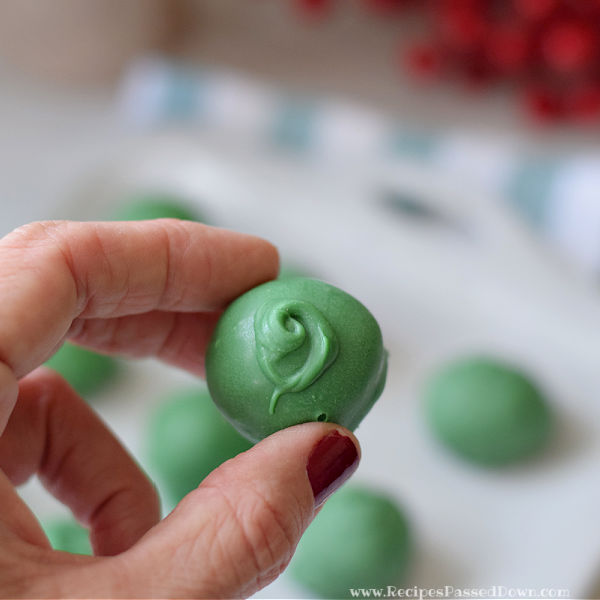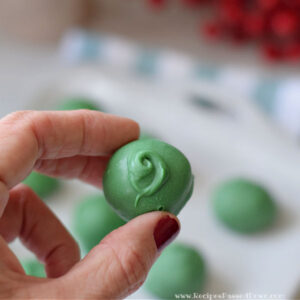 Mint Meltaways
Delicious smooth and creamy truffle center with a chocolate coating candy
Ingredients
4

cups

chocolate melts

light brown

4

cups

chocolate melts

dark brown

9

Tbsp.

unsalted butter

– melted

1

cup

evaporated milk

3

egg yolks

2

tbsp.

peppermint extract

OR 15 drops of pure peppermint oil

24

oz.

chocolate melts

light green

all-purpose flour

small amount
Instructions
In a large glass microwave-proof bowl, microwave the dark and light chocolate for 1 minute

Stir the melted chocolate and pop it back into the microwave for 1 more minute

Stir until smooth

In a small bowl, whisk the egg yolks and set aside

In a medium-sized bowl, whisk the melted butter and evaporated milk

One spoonful at a time, add a spoonful of warm butter mixture to egg yolk and mix

Once the eggs have warmed up and thickened, pour them into the butter and cream mixture and mix well

Now, add the cream mixture to the chocolate and stir until blended

Cover and refrigerate for a few hours or overnight

Pour a small amount of all-purpose flour onto your work surface

Using your hands or kitchen gloves pat them onto the flour and rub your hands together so the flour is lightly coating your palms

Roll the truffle mixture into small teaspoon-sized balls

Set out a piece of wax paper

Melt the green chocolate

Using a fork or dipping tool, One by one, dip truffle balls into the melted chocolate

Bring the chocolate balls up to the side of the bowl and tap to release excess melted chocolate

Place the coated truffles onto the wax paper to dry

Store in an airtight container in a cool place
Notes
nutrition facts are only an estimate 
Nutrition
Calories:
271
kcal
Carbohydrates:
31
g
Protein:
0.4
g
Fat:
15
g
Saturated Fat:
14
g
Polyunsaturated Fat:
0.1
g
Monounsaturated Fat:
1
g
Trans Fat:
0.1
g
Cholesterol:
16
mg
Sodium:
18
mg
Potassium:
15
mg
Sugar:
31
g
Vitamin A:
78
IU
Vitamin C:
0.1
mg
Calcium:
13
mg
Iron:
0.03
mg