These Rolo and Pretzel Turkeys are so cute and so easy to make. Such a cute treat for the kids on Thanksgiving.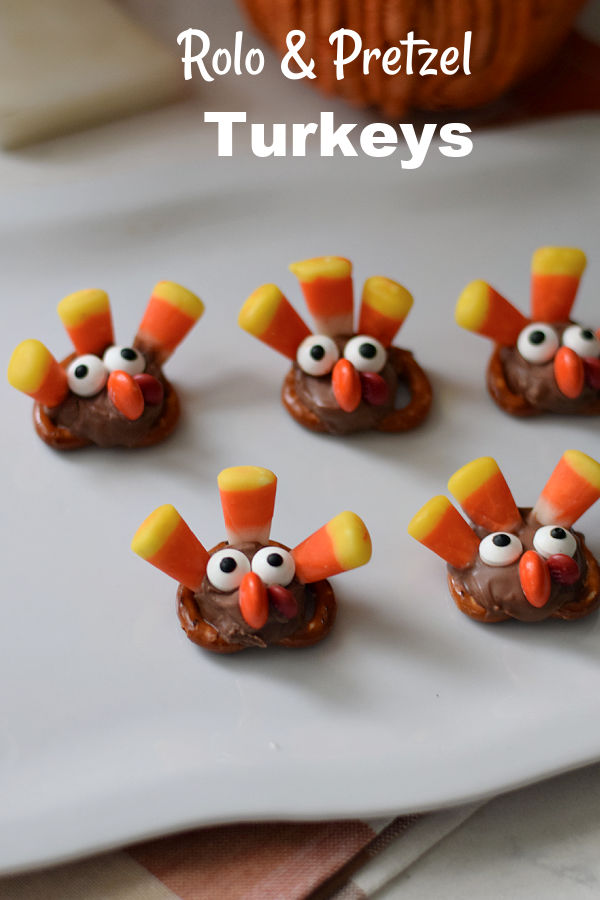 Rolo & Pretzel Turkeys for Thanksgiving
These are such fun and easy treats to make for the kids on Thanksgiving. They can even help with this cute treat.
What I love about this recipe:
so easy to make that the kids can help
a tasty dessert treat for Thanksgiving
a cute holiday treat for the kids
FAQs
Make Ahead and Storage:
Can I make these Turkey Pretzels ahead of time?
Yes! You can easily make these a day in advance and have them ready to go for your holiday celebration
Because you are heating up chocolate and then allowing it to cool down, after a couple of days, you might see sugar bloom start to set in. That is why I would only suggest making these a day in advance or the morning of your party or event.
What is Sugar Bloom?
Sugar bloom occurs when chocolate is warmed up and melted then cools off. The sugar separates from the oils during the melting phase and then when the chocolate cools back up the sugar solidifies and shows on the surface as white crystals
Is it Safe to Eat Chocolate that has had a Sugar Bloom?
Yes. It is perfectly safe to eat chocolate with sugar bloom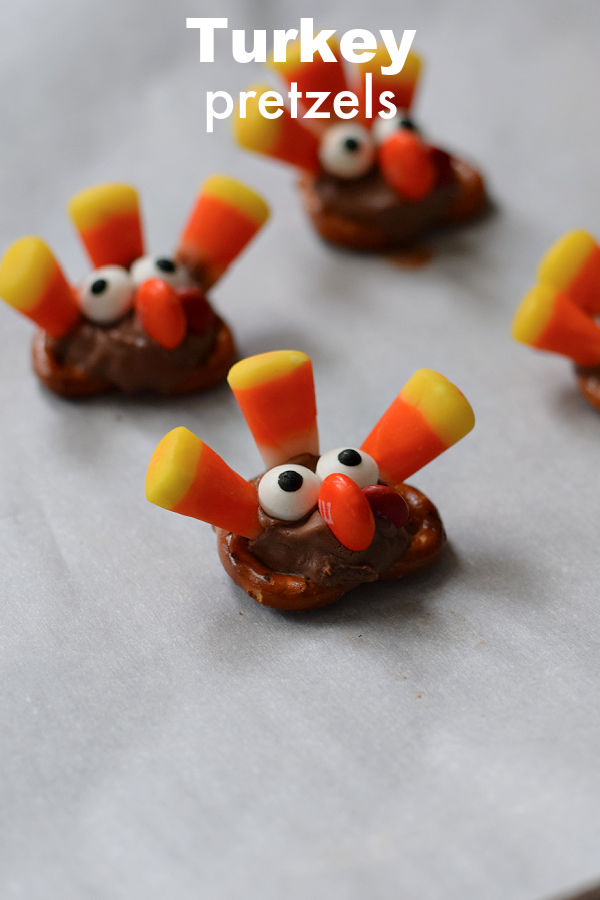 Tips and Tricks:
Wait until the Rolo candy has cooled off and has started to firm up again before adding decorations
When the chocolate candy has cooled off but is still very soft, add the candy corn, M&Ms, and eyes for decorations
Use parchment paper to line baking sheets with
If you are ready to make this cute turkey treat, let's make sure you have everything you'll need:
Ingredients:
mini pretzel twists
Rolos Chocolate Candy
candy corn
candy eyes
orange (regular-sized) M&Ms
red (mini) M&Ms
How do you make Rolo and Pretzel Turkeys?
preheat the oven to 250 degrees F
line a baking sheet with parchment paper
set mini pretzel twists onto the parchment paper
place a Rolo's candy on each mini twists
bake for 2-3 minutes, just long enough to soften the candy
remove from oven and let cool for about 5 minutes
once the candy has firmed up ut ist still soft, it's time to decorate
place 3 candy corn pointed side down into the pretzel twist (along the rounded edge)
add candy eyes
turn an orange M&M on its' side and push it into the candy for the beak
turn a mini red M&M on its' side and push at a slant near the orange beak to resemble the gobble
Print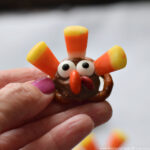 Rolo & Pretzel Turkeys {So Cute!}
---
Description
Adorable Rolo's pretzel turkeys for a fun and fest Thanksgiving treat
---
12

mini pretzel twists

12

Rolos Chocolate Candy

36

candy corn

24

candy eyes

12

orange (regular-sized) M&Ms

12

red (mini) M&Ms
---
Instructions
preheat the oven to 250 degrees F
line a baking sheet with parchment paper
set mini pretzel twists onto the parchment paper
place a Rolo's candy on each mini twists
bake for 2-3 minutes, just long enough to soften the candy
remove from oven and let cool for about 5 minutes
once the candy has firmed up ut ist still soft, it's time to decorate
place 3 candy corn pointed side down into the pretzel twist (along the rounded edge)
add candy eyes
turn an orange M&M on its' side and push it into the candy for the beak
turn a mini red M&M on its' side and push at a slant near the orange beak to resemble the gobble