This pasta salad is an old-fashioned recipe that makes an appearance at every potluck and holiday. It is filled with fresh vegetables, like cucumber, tomatoes, and green pepper, and tossed with a delicious and easy vinegar dressing.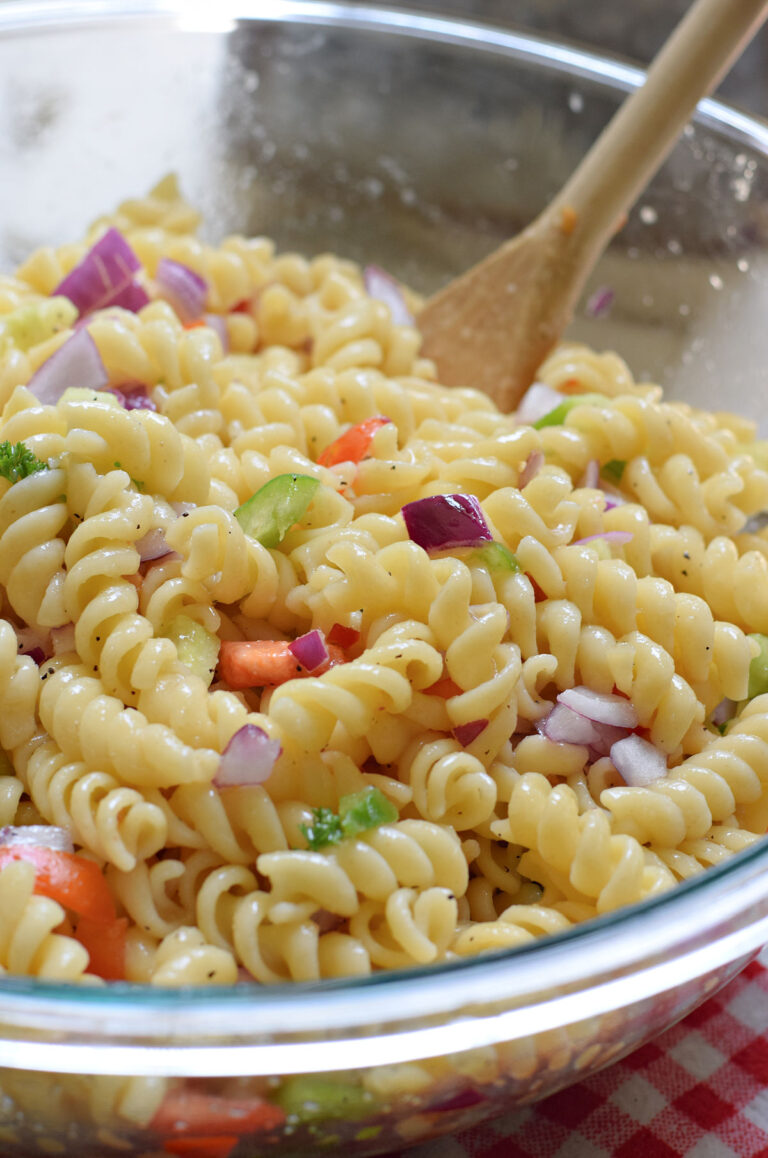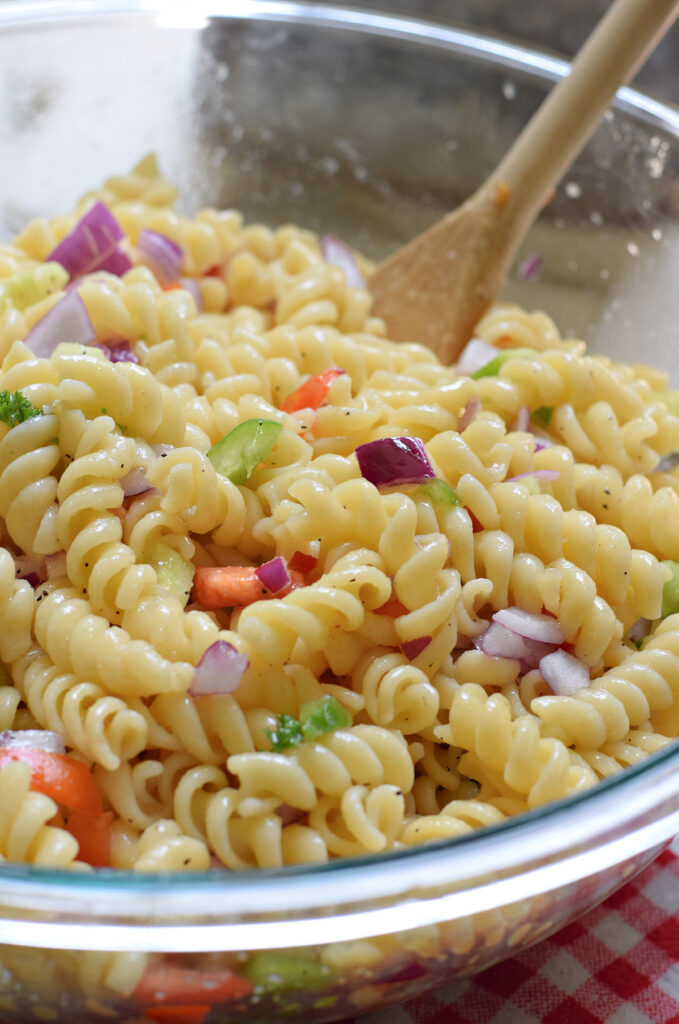 Garden Pasta Salad
I love anything you can make ahead. This quick pasta salad is easy to whip up and serve. It's best if you make it ahead so the juices can really marinate, so that makes it the perfect make-ahead pasta salad. Like all of the salads on the blog, this one is old-fashioned and tried and true. Another great salad recipe is this black-eyed pea salad. Some people call it cowboy caviar. Or, this three bean salad. It's another classic salad recipe. One more salad that I wanted to share is my grandma's recipe for German Potato Salad. It's such a classic. I know you'll love it!
What I love about this recipe
It's a tried and true recipe that comes from family and friends
This is a simple recipe that has very few ingredients
Always a big hit at any potluck or summer BBQ
Ingredients
Rotini – Rotini noodles have a lot of folds for the dressing to settle into making if very flavorful
Red Onion – I love the flavor that red onion lends to this pasta salad. It gives a fresh flavor and texture
Tomatoes – I feel like tomatoes are an essential part of any summer salad or pasta salad. The juiciness and acidity are so wonderful. Cut tomatoes into wedges.
Cucumber – Cucumber is another fresh summer vegetable to add to your salad. Cut cucumbers into bite-sized chunks
Green Pepper – Green pepper not only provides a great family but also a great crunch and texture. Cut green pepper into bite-sized pieces
Parsley – Parsley is mixed with the oil and used to coat the noodles
Vegetable Oil – Oil and parsley are used as a coating for noodles. The starchiness of the noodles really allows the oil mixture to grab on and hold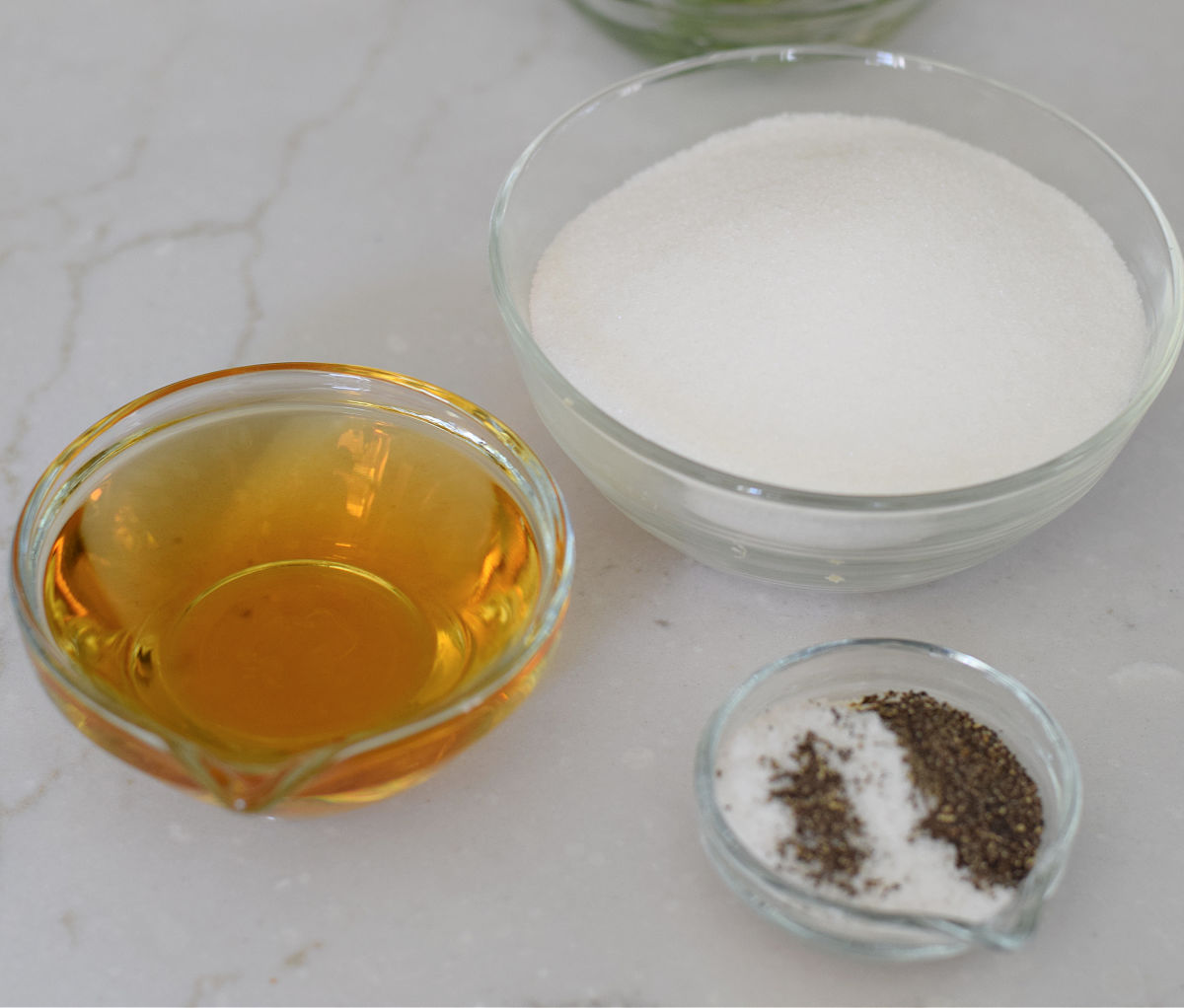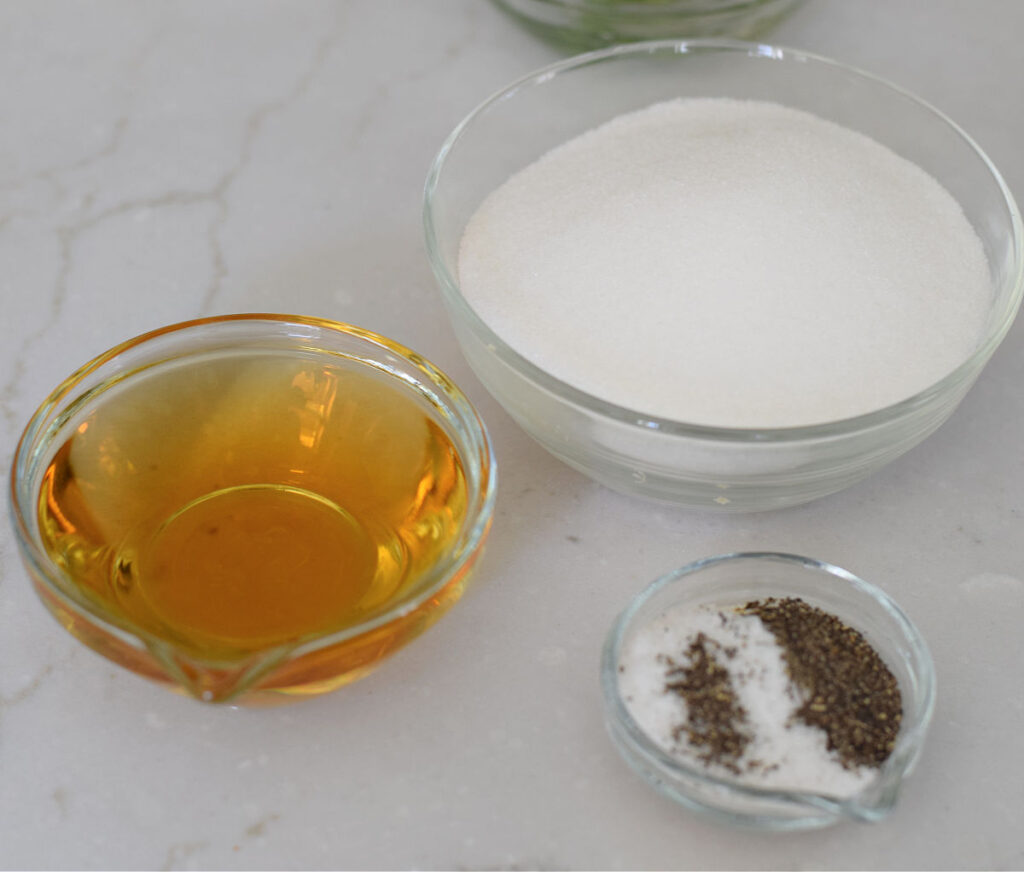 Dressing:
Sugar – Sugar is so vital to this dressing. It gives it it's sweetness that tastes so great with the vegetables
Vinegar – I like apple cider vinegar
Salt – salt will help balance out the sweetness
Pepper – pepper lends a little spice to the dressing
Onion Powder – onion powder is such a great flavor in dressings
Garlic Powder – I don't know what I'd do without garlic as a seasoning
Coat the Noodles
Instructions
Cook noodles according to package directions. Al dente is probably a great softness to go for
Drain the noodles and rinse with cold water
Mix the parsley and oil – pour over the noodles and toss to coat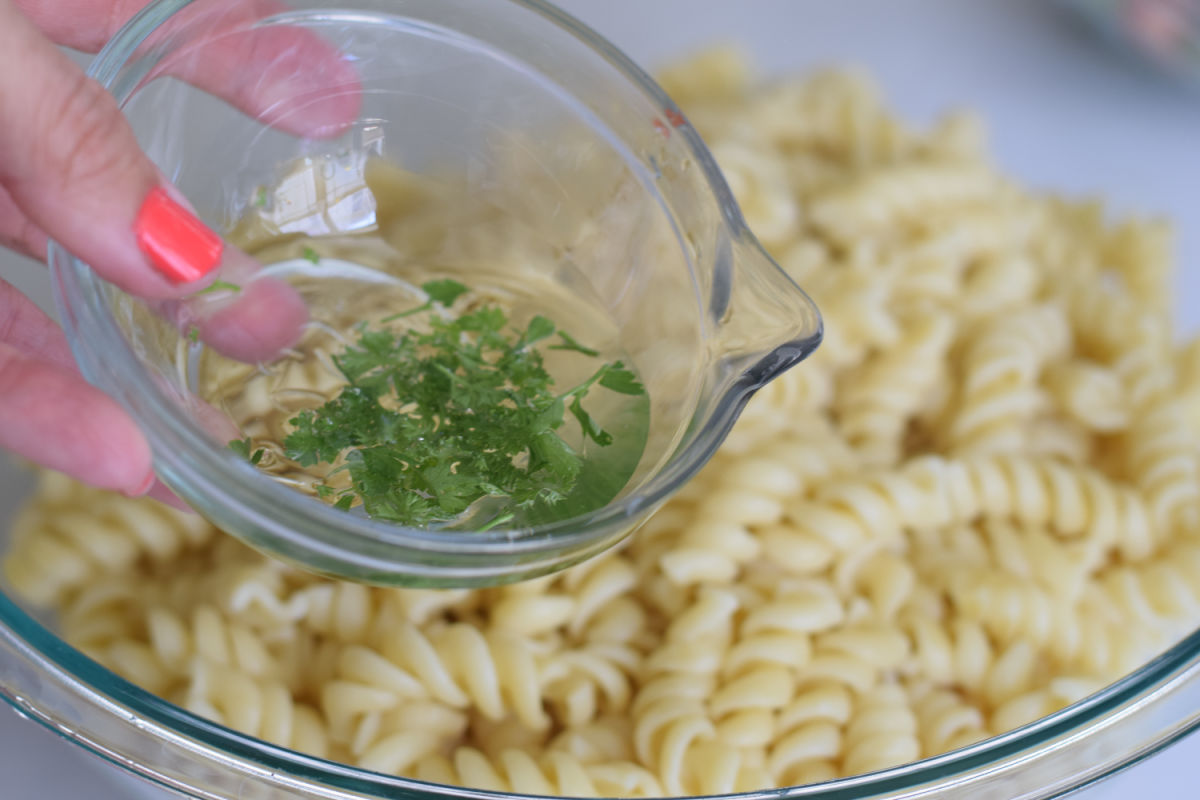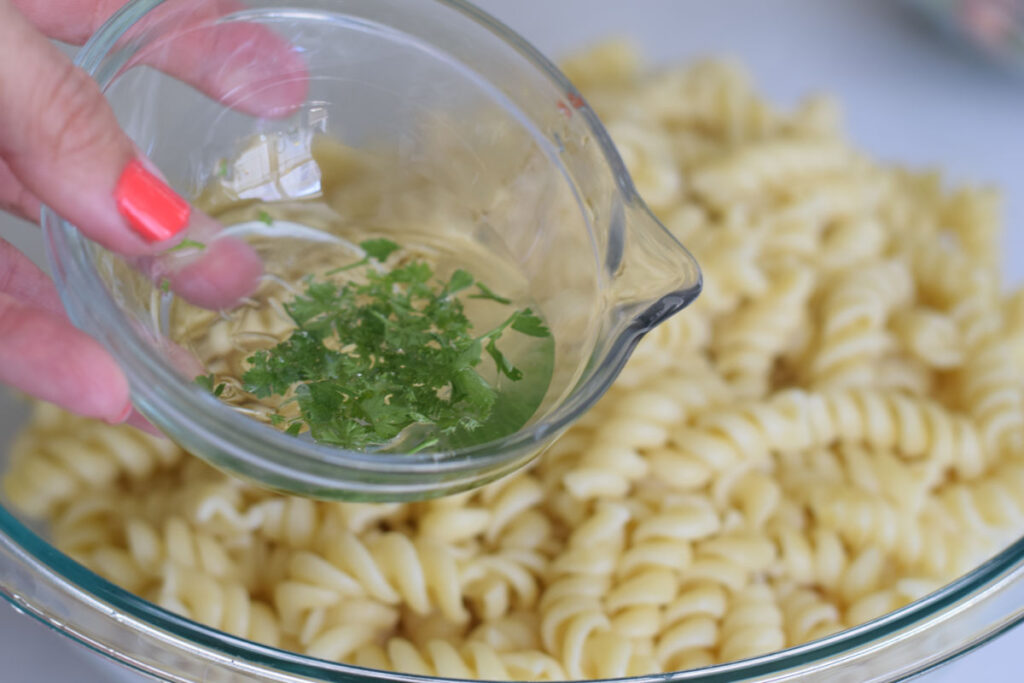 Add chopped vegetables and toss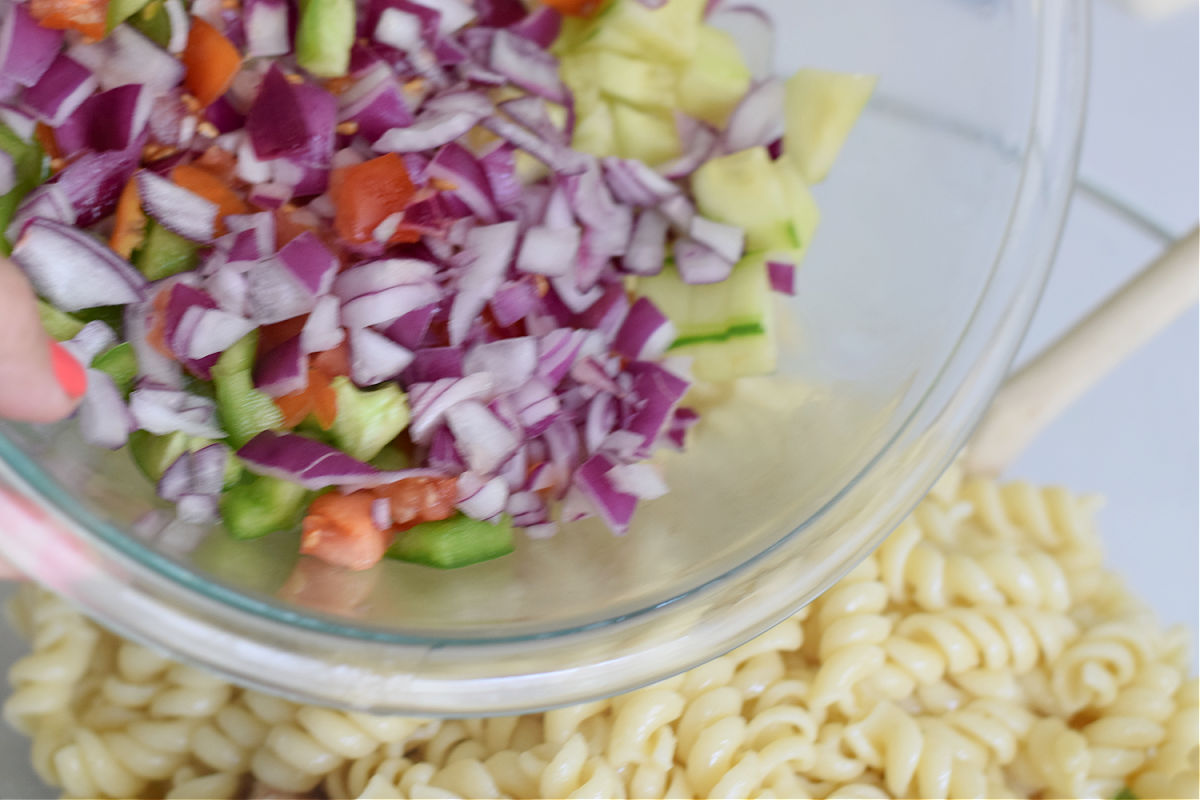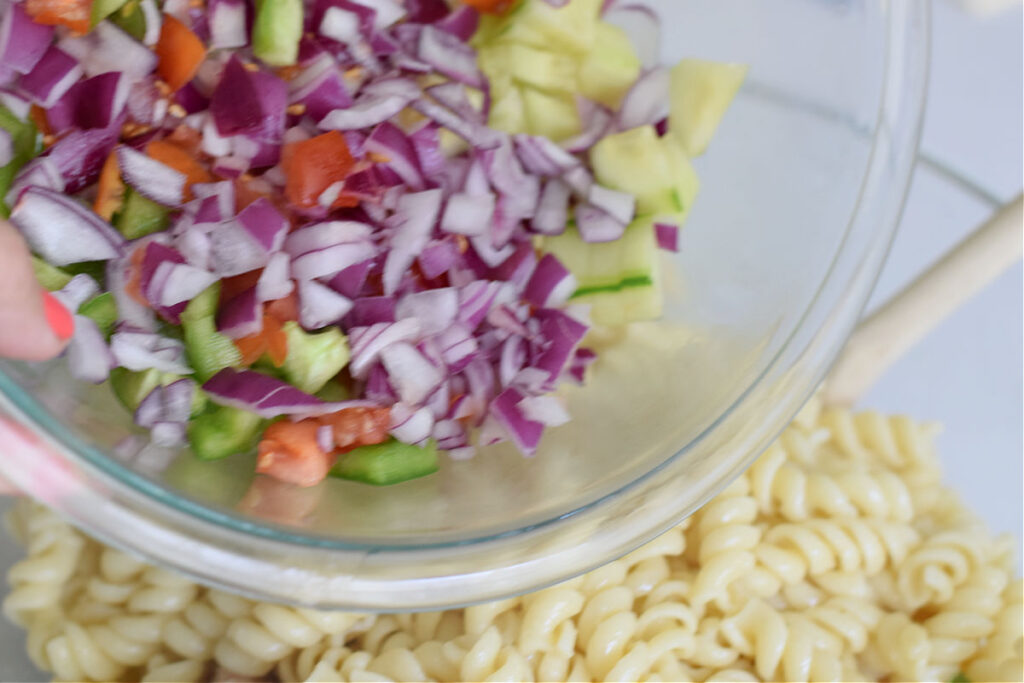 In a saucepan, mix sugar, vinegar, salt, pepper, onion powder, and garlic powder
Heat until the sugar and seasonings are dissolved
Pour over the noodles and vegetables – toss to coat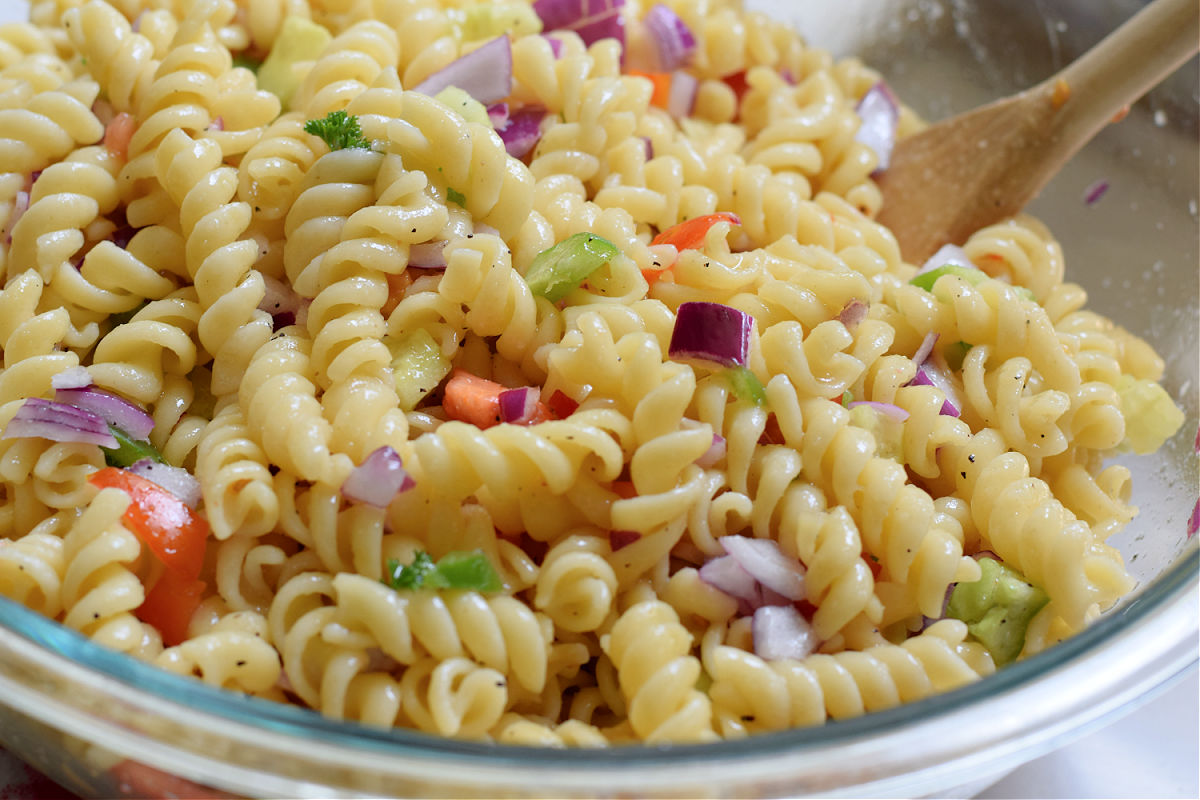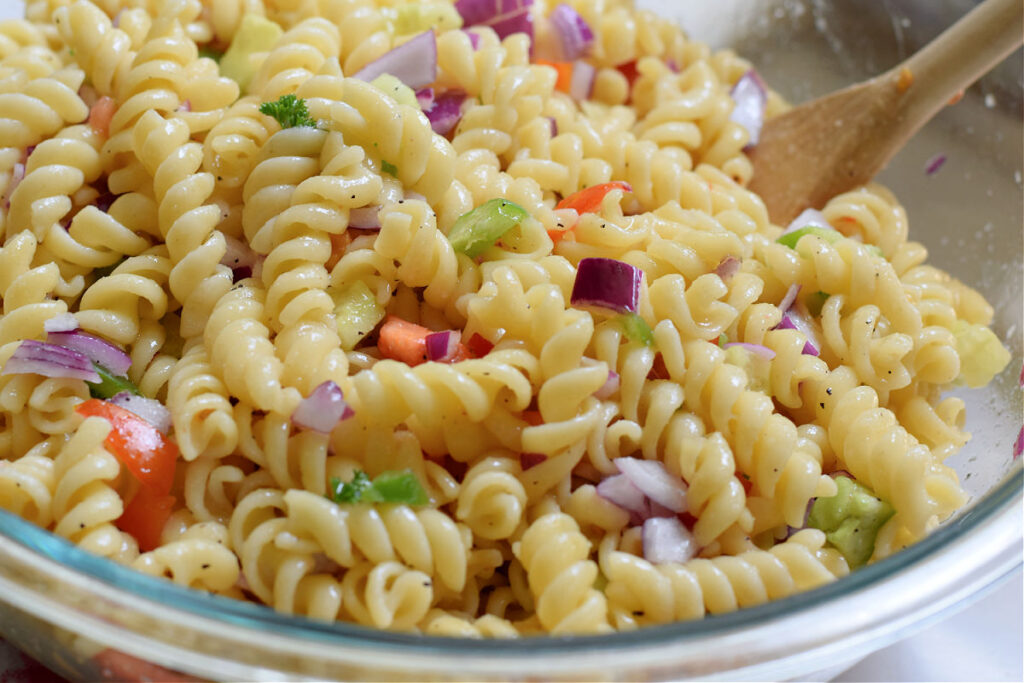 Cover and refrigerate for a couple of hours or overnight
Expert Tip
Only cook the noodles to the time that it takes to cook to al dente. If you cook them too long, they will get soft and mushy.
Use fresh vegetables. Previously frozen vegetables or canned vegetables will not go well with this pasta recipe
Variations
Add-ins to consider for this summer pasta salad:
Cucumber
Green onion
Carrots
Black Olives
What to Serve With
Hamburgers
Hot Dogs
Grilled Steak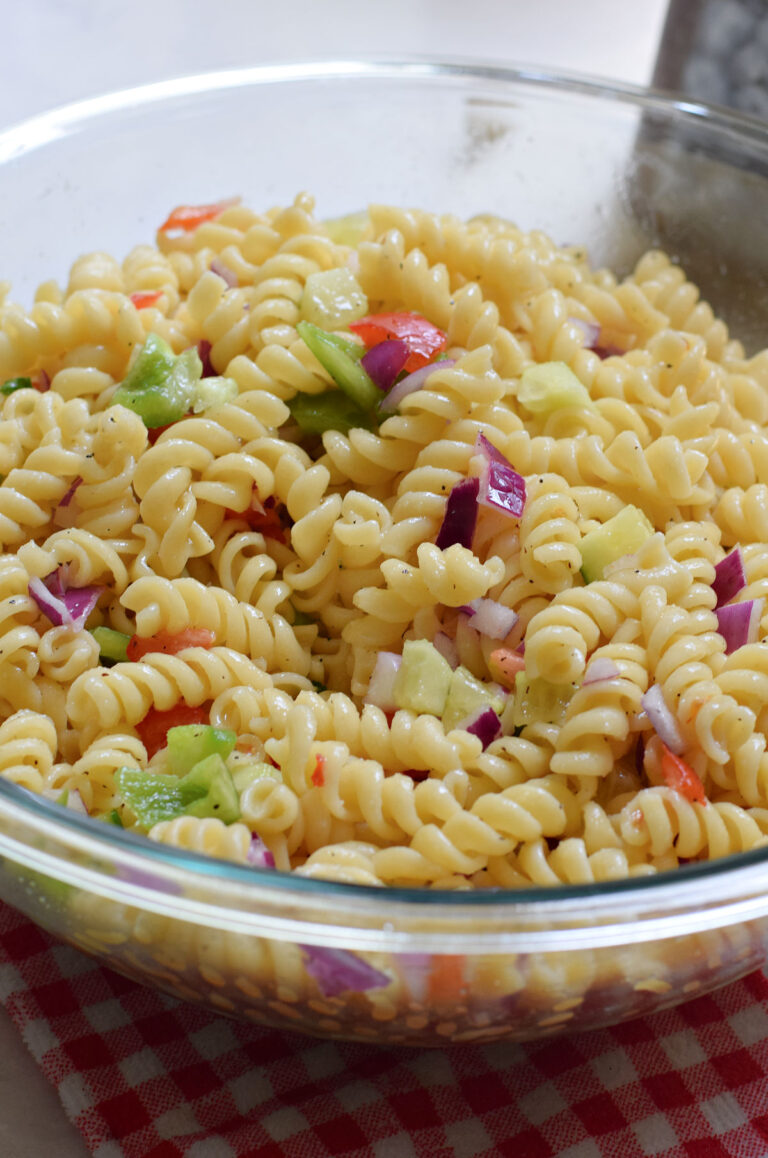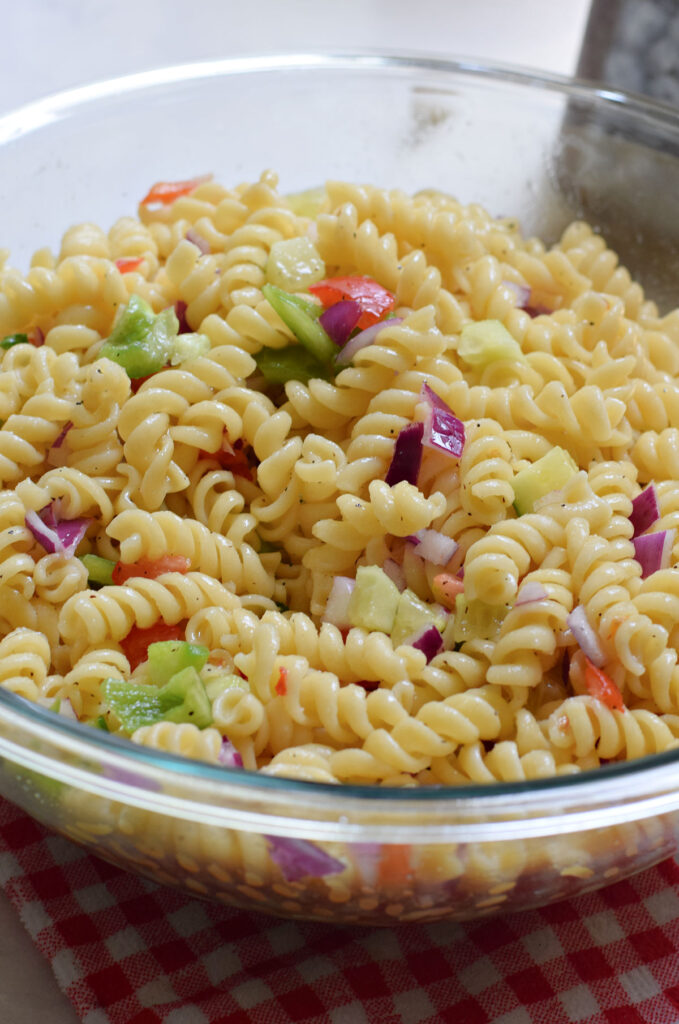 What type of pasta is best for pasta salad
To really take on the flavor of the dressing and spices, pasta should have folds and crevices for the dressing to settle into. like a rotini or bow-tie pasta
How do I prevent pasta from becoming mushy in a pasta salad?
Cook the noodles to al dente and rinse the pasta with cold water immediately to prevent the past from continuing to cook
Should I use fresh or canned vegetables in my pasta salad?
Fresh is the best type of vegetable for any pasta salad. Canned or frozen vegetables are too mushy
Storing
Storage: Store pasta salad covered and in the refrigerator for up to 5 days
How far in advance can I make pasta salad?
You can make pasta salad up to 5 days in advance, however it is best served within 2 days
More Side Recipes You'll Enjoy
Serving Size
This summer side will feed a crowd
Make double or triple to feed more
Come Hang out with Me
I'd love to see you on my Facebook Page called Recipes Passed Down or on my Pinterest page. I'm constantly sharing fun ideas and great recipes and I'd love to see you there.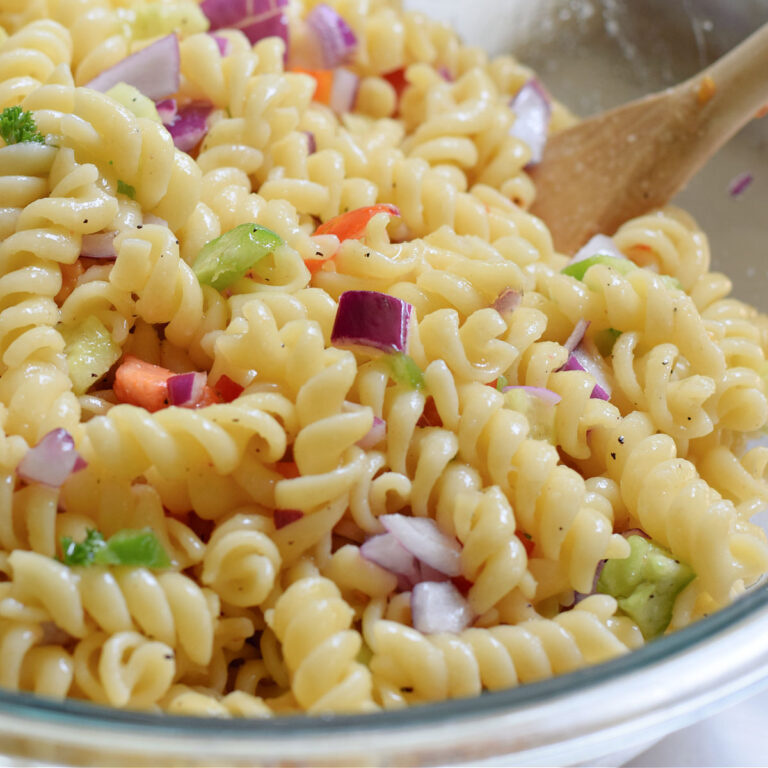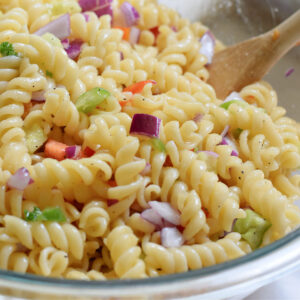 Garden Pasta Salad Recipe
A delicous and easy pasta salad to enjoy as a side
Ingredients
1

lb.

rotini noodles

cooked to al dente, drained, and rinsed with cold water

1

medium

red onion

2

large

tomatoes

cut into wedges

1

large

cucumber

chopped

1

large

green pepper

chopped

2

tbsp.

fresh parsley

chopped

2

tbsp.

vegetable oil
Dressing
1&1/2

cup

sugar

½

cup

apple cider vinegar

1

tsp.

salt

¼

tsp.

ground pepper

1

tsp.

onion powder

1

tsp.

garlic powder
Instructions
Cook noodles according to package directions. Al dente is probably a great softness to go for

Drain the noodles and rinse with cold water

Mix the parsley and oil – pour over the noodles and toss to coat

Add chopped vegetables and toss

In a saucepan, mix sugar, vinegar, salt, pepper, onion powder, and garlic powder

Heat until the sugar and seasonings are dissolved

Pour over the noodles and vegetables – toss to coat

Cover and refrigerate for a couple of hours or overnight
Nutrition
Calories:
168
kcal
Carbohydrates:
34
g
Protein:
6
g
Fat:
1
g
Saturated Fat:
0.1
g
Polyunsaturated Fat:
0.3
g
Monounsaturated Fat:
0.1
g
Sodium:
3
mg
Potassium:
101
mg
Fiber:
1
g
Sugar:
1
g
Calcium:
10
mg
Iron:
1
mg