These Cowboy Baked Beans are the perfect side to any summer cookout or potluck. A hearty side that's always a big hit.

Mom's Recipe for Cowboy Baked Beans
Also known as ChuckWagon Beans, or Barbecue Baked Beans 
A delicious side that everyone will be excited to see at your next gathering. This side dish is a filling side that's always a favorite at potlucks.
Reasons to love this Cowboy Baked Beans Recipe:
a passed down recipe from midwest moms
prep time is very little
a popular summer side dish for potlucks
filled with bacon and ground beef, it's a hearty dish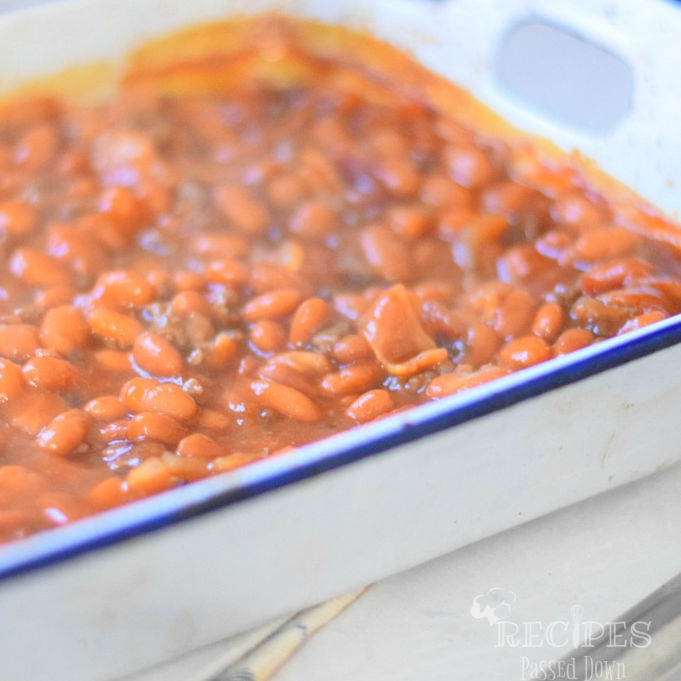 FAQ's
How did Cowboy Baked Beans Get its Name?
Nobody really knows the true origin of the Cowboy Baked Beans name. Cowboys would have usually eaten beans along with dried food like venison, dehydrated fruit, and bread.
What Exactly are Cowboy Baked Beans?
Cowboy Baked Beans is a hearty side dish made from bacon, ground beef, onions, brown sugar, and barbecue sauce. Some recipes will also include bell pepper.
Make-Ahead and Storage:
How long will these Baked Beans Last in the Refrigerator?
Because this recipe has meat cooked into it, it's best to eat them within 5 days of making them
How do I Store Leftover Homemade Baked Beans?
Use an airtight container and place leftover beans in the refrigerator
Can you Freeze Baked Beans?
Yes. You'll want to allow the baked beans to cool completely before you transfer them to a container for freezing. Place the cooled baked beans in the freezer and freeze for up to 6 months
Defrosting Frozen Baked Beans: Baked beans can be defrosted by thawing them at room temperature or by thawing them overnight in the fridge. To heat them back up, place them in a covered saucepan on a stovetop and cook over low heat or bake them covered with foil to retain the moisture
Can I Make Cowboy Baked Beans in Advance?
Yes. You'll probably want to serve these beans the day that you make them and keep them warm at all times. But, you can make them a day in advance and reheat them before serving
Reheating: Place foil over the baking dish and place in an oven set to 350 degrees for around 20 minutes – or until warmed through
What are some foods that pair well with Cowboy Baked Beans?
Grilled steak, pork, or chicken
Potato salad
Fried chicken
Pasta Salad
Grilled Tomatoes
3 Bean Salad
Summer Spaghetti Salad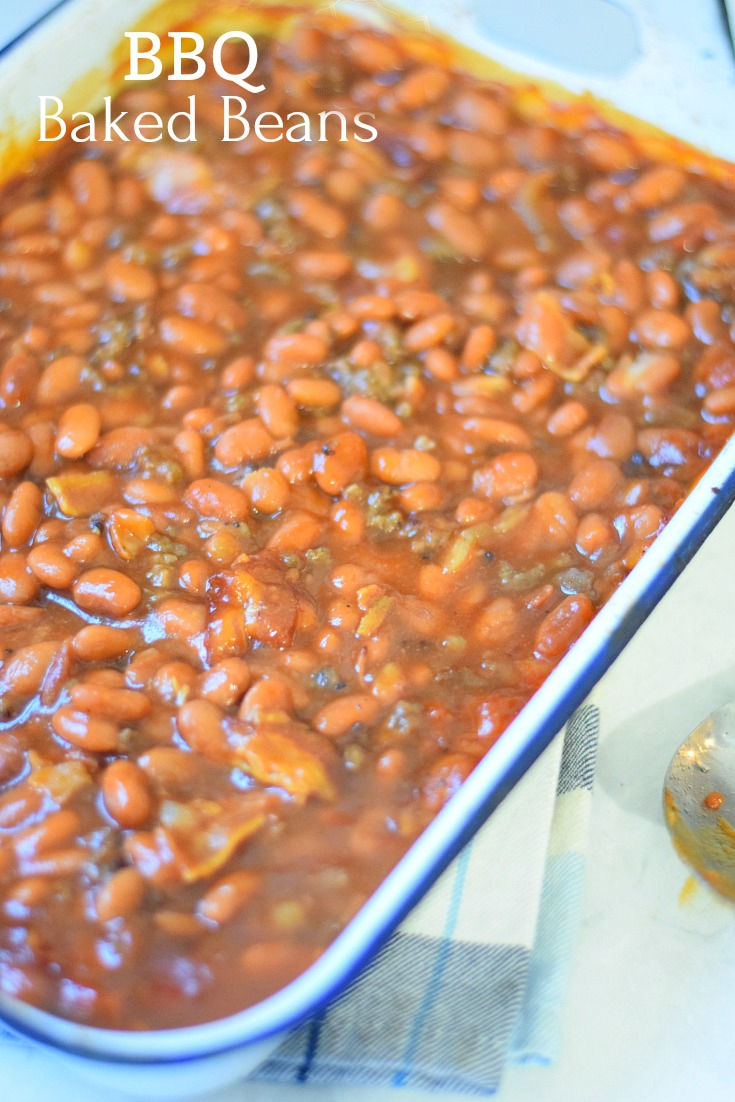 Tips and Tricks:
you'll want to keep the beans warm. Try using a carrier that is meant for keeping casseroles warm, a crockpot, or a slow cooker
to make sure you don't lose any of that delicious sauce, cover the pan with foil or a lid when reheating
If you are ready to make this recipe? Let's make sure you have everything you'll need 
Ingredients:
ground beef -sirloin ground beef is my go-to ground beef. There is very little fat and not too much if any to drain
sweet onion – Vidalia onions are my favorite for this recipe
sugar – granulated sugar
packed brown sugar – dark brown sugar will make a darker sauce, but you can use either light brown sugar or dark brown sugar
ketchup
barbecue sauce – I would not use a spicy or sweet sauce. Stick to the original flavor
of yellow mustard
chili powder
pinto beans – if you don't have pinto beans, use kidney beans or mix the 2
bacon – cooked. Lately, I've been purchasing the pre-cooked bacon and just warming the pieces in a skillet for cooking
How do you make Cowboy Baked Beans?
Instructions:
Cook the beef and onion together in a skillet until the beef is cooked through and the onion is translucent
In a large baking dish, mix beef, onions, bacon, sugar, brown sugar, ketchup, mustard, chili powder, and beans
Bake at 350 degrees for 45 minutes
Here are my top Amazon Picks for this recipe:
(affiliate links)
I'd love it if you'd come and hang out with me on Social Media –
Facebook Page for Recipes Passed Down
Facebook Group where we share recipes – Our Best Recipes and Holiday Treats 
I can't wait to see you there!
More Sides Recipes
Grilled Tomatoes with Zesty Italian Dressing 
Cooked Fresh Corn with Green Pepper 
Here's the Baked Beans recipe for you…