Smooth and creamy rice pudding just like grandma used to make. This Old Fashioned Rice Pudding Recipe is timeless classic comfort food and is always a big hit.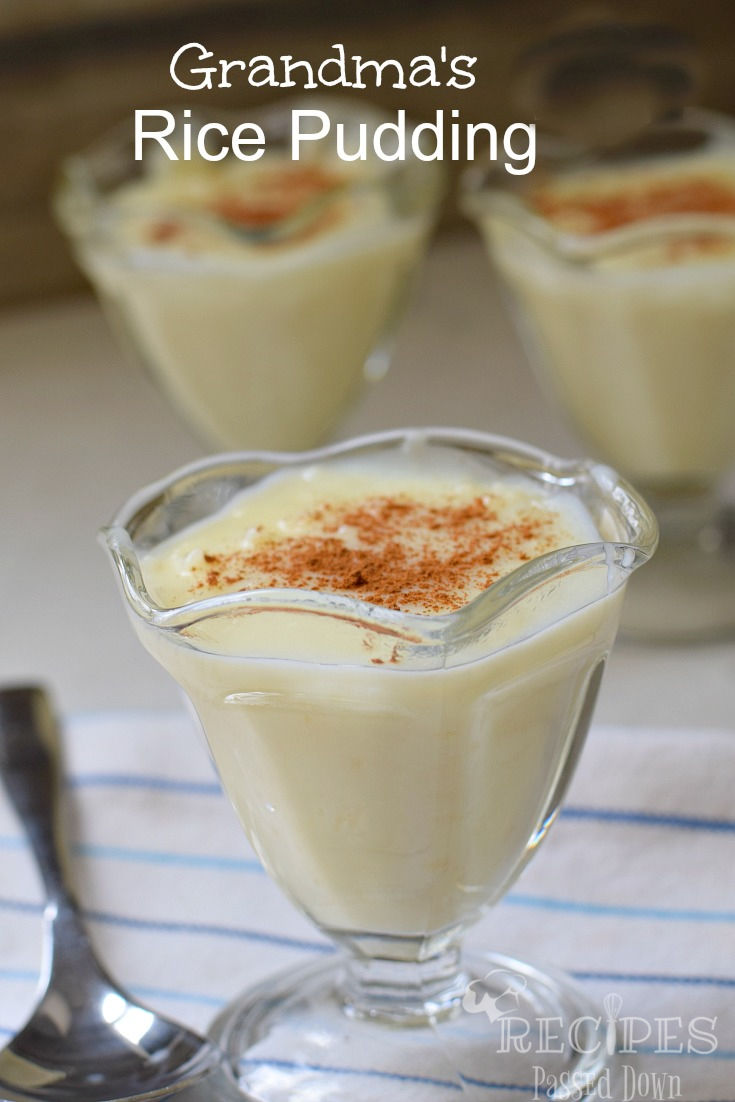 Creamy Rice Pudding Recipe
There is something nostalgic about curling up with a warm bowl of creamy rice pudding. It brings me back to the good ole' days of watching television with the family after a filling meal.
Rice pudding doesn't really have a season that it is best in. I think it's great all year round. If I had to pick a season, fall or winter would be the ultimate comfort food time for this sweet custard-type dish.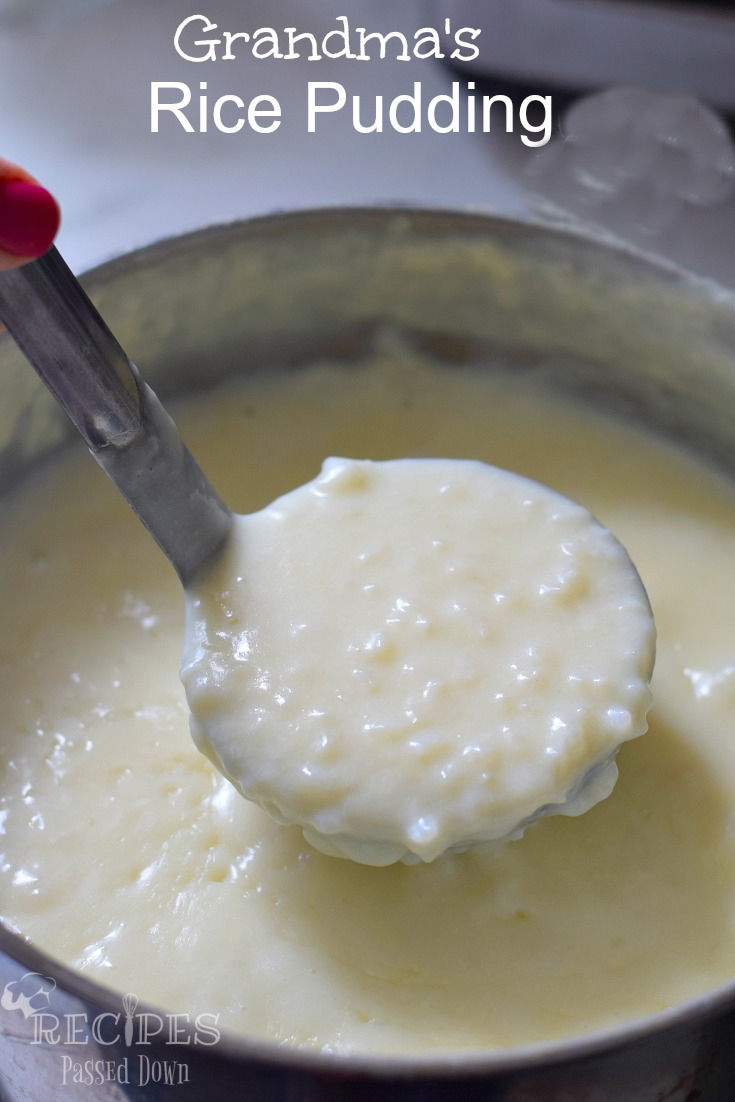 What is in a Classic Rice Pudding?
cooked rice, sugar, milk, eggs, vanilla, and cornstarch are typically the main ingredients in any rice pudding?
Make-Ahead and Storage:
Rice pudding can easily be made a few days in advance.
Store rice pudding covered in the refrigerator.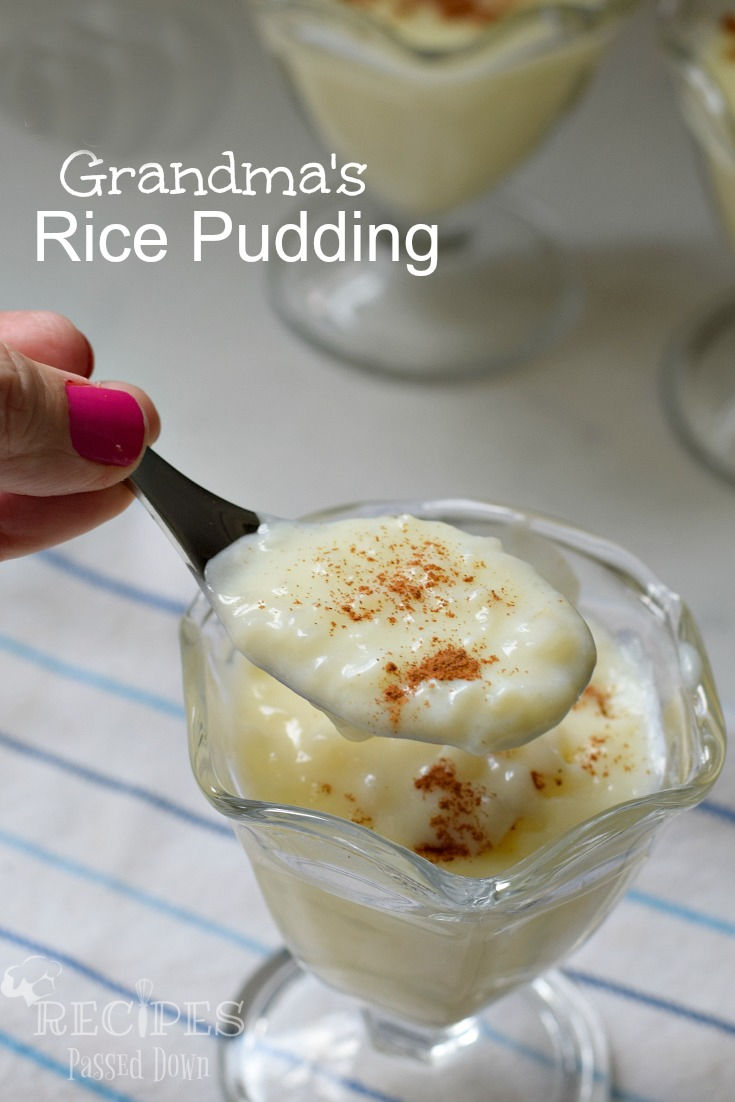 Reheating Rice Pudding:
You can reheat rice pudding on the stovetop over medium heat. To thin overly thickened rice pudding, place it in a pot (saucepan) and add 1 Tablespoon of milk at a time and stir over medium to medium-high heat.
Another  method of reheating rice pudding would be to heat it in the microwave until heated through
My Rice Pudding is Runny – What Can I do?
Even though your rice pudding might be runny immediately after removing it from the heat, the cornstarch or other thickening agent will most likely continue to work even after you are done cooking it. As the pudding cools off, it will continue to thicken and become a thicker texture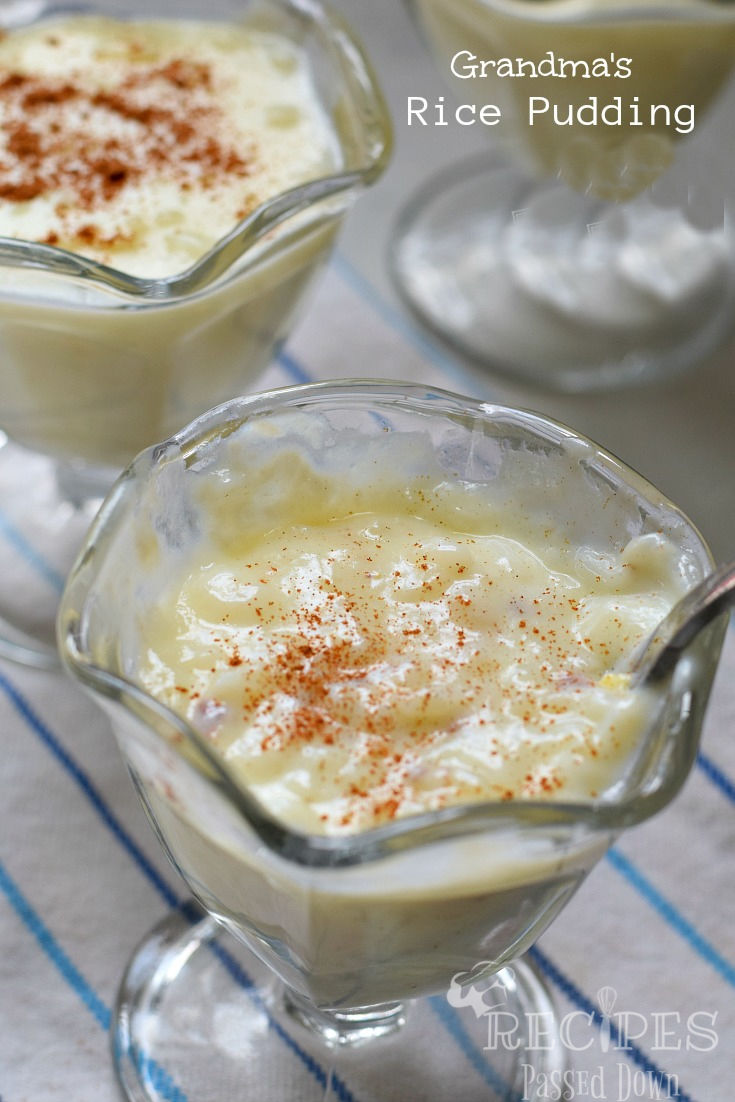 Is Classic Rice Pudding Healthy?
With sugar and whole milk, you can see how this recipe might not be the healthiest choice when you are watching your calories. A great way to lessen the calories in rice pudding is to substitute it with lower fat milk. However, the milk, eggs, and rice will give you a healthy dose of protein and calcium. Folding in fruit will boost the vitamins in rice pudding.
What Can I Serve with my Rice Pudding for Added Flavor?
fruit folded into your serving of rice pudding – sliced peaches, apricots, apples, or oranges would all be delicious
cinnamon
nutmeg
whipped topping
pecans pieces
heavy cream
raisins
Are you ready to make this creamy rice pudding recipe? Let's make sure you have everything you'll need…
short-grain rice or long-grain rice
water
unsalted butter
whole milk or 2% milk – Divided
egg yolks-  beaten
granulated sugar
cornstarch
pure Vanilla extract – you can substitute artificial extract
optional – cinnamon for added topping
How do you make Old Fashioned Rice Pudding?
cook rice until water is cooked out and rice has absorbed all of the moisture and is fluffed up
add the unsalted butter and mix in until the butter is dissolved
you'll add a large portion of the milk to cool the recipe down
in a small bowl, you'll mix the egg yolks with some more of the milk and then add that to the milk and rice
bring the rice to a boil over medium-high heat and cook down for about 30 minutes – leave the lid off
add cornstarch to the rest of the milk and mix
stir the cornstarch mixture into the rice – cook for a few minutes to thicken the rice pudding
add vanilla and stir in
best served warm with cinnamon and whipped topping
More Desserts to Try
Cherry and Pineapple Dump Cake 
Here's the recipe with full details…
Print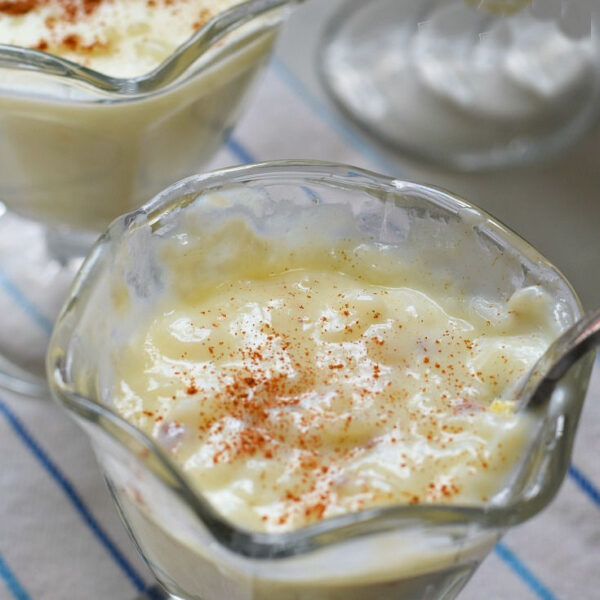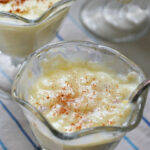 Old Fashioned Rice Pudding Recipe
---
Author:

Total Time:

50 minutes

Yield:

10

-

12

servings

1

x
Description
An old fashioned recipe for rice pudding
---
1

cup

of short-grained or long-grain rice

2

cups

of water

4 Tbsp

. of butter

6

and 1/4 cups of 2 % milk – Divided

2

egg yolks, beaten

1

& 1/2 cups of sugar

3 Tbsp

. of cornstarch

1 tsp

. of Vanilla
optional – cinnamon
---
Instructions
Boil the rice in water until it thickens – use the package instructions for boiling times and temperatures
*for my long grain rice, I set the temperature on high until it boiled, turned the temp. down to a simmer, placed the lid on, and cooked for 15 minutes
Do not drain – if you've cooked the rice down long enough, you shouldn't have water standing. It should be absorbed in the rice and rice will be plumped up
Add butter and stir until dissolved
Add 5 cups of the milk to the hot rice mixture – this will help cool the rice
In a separate bowl, add the other 1 cup of milk to the egg yolks and whisk together
Pour the milk/egg mixture into the rice
Bring this mixture to a boil, lower the heat, and simmer without a cover for 30 minutes – stirring occasionally
In a small bowl, mix cornstarch with 1/4 cup of milk
Add cornstarch mixture and sugar to the rice mixture – stir over medium/high heat until thick (about 2-3 minutes)
Add vanilla and stir in
Suggested – serve with whip cream and a sprinkle of cinnamon
Notes
Storage:
Store rice pudding covered in the refrigerator for up to 5 days
Prep Time:

20 minutes

Cook Time:

30 minutes
~Melissa – RecipesPassedDown.com